Mayawati to address rallies every month, may appoint nephew Akash as heir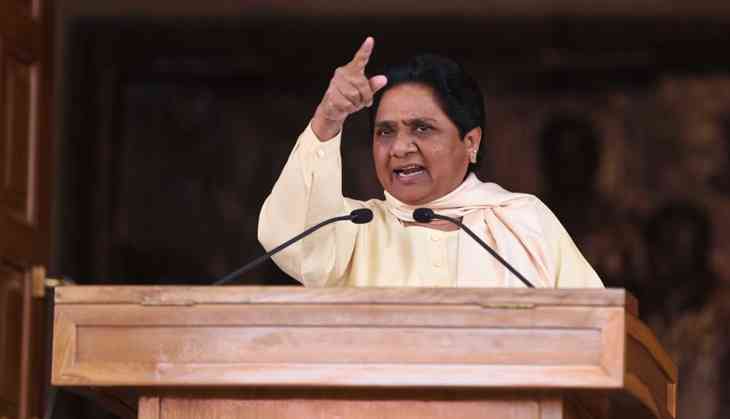 (Deepak Gupta/Hindustan Times via Getty Images)
Beginning September 18, Mayawati will start addressing rallies every month on the same date to attract voters and remain relevant in Uttar Pradesh politics. The first rally will be held in Meerut.
With her brother Anand Kumar not keeping good health, she may introduce her UK-educated nephew Akash at this rally as her political heir. Akash is Anand Kumar's son and joined the party in May, 2017. He has been under Mayawati's tutelage since then. He did his masters in business administration from a university in London.
A Bahujan Samaj Party source said that Mayawati was anticipating the parliamentary polls to be advanced to 2018 and wanted to cover the state in six months before moving to other states like Madhya Pradesh and Rajasthan where Assembly elections are due next year. "Keep an eye on this rally for Akash," he said.
There are 18 divisions in UP and Mayawati had earlier planned to address nine public meetings of two divisions each. Now she has decided to reduce the number of meetings to six, comprising three divisions each.
Some say she has chosen 18th of every month for her rallies because she had resigned from the Rajya Sabha on July 18, even though her resignation was accepted a day later.
Former senior BSP leader Indrajit Saroj said that instead of two she will be addressing people from three divisions simply because she wanted the gathering to be sizeable.
Saroj is a four-time BSP minister who said he was expelled from the party "in five minutes" allegedly for refusing to pay Rs 15 lakh. He said that Mayawati was "very scared" and doubted if she will contest any election.
She was scared of the BJP unleashing the CBI on her and reopening the old corruption cases.
The BSP source admitted that with senior leaders and the old guard leaving the party, its revival with the help of new leaders would be a challenge for the BSP leader.
He acknowledged that the road ahead for Mayawati was tough. "There is the Bharatiya Janata Party eating into BSP's vote bank and Jatav votes alone will no longer help her cause," he pointed out.
Like it had wooed the Dalits before the 2014 elections, the BJP once again has a strategy in place to reach out to over 40 Dalit groups, excluding Jatavs, for the 2019 elections.
Many of the Dalit castes being targeted by the BJP in UP do not even figure in Mayawati's scheme, said Prof Badri Narayan of the Allahabad-based GB Pant Institute of Social Sciences.
Saroj, who will be joining the Samajwadi Party on 21 September, 2017, was of the view that Mayawati's style of working is the reason why Dalit politics in the state has a bleak future.
"This was not what Kanshi Ram had struggled for," he said while blaming the party's founder for having chosen Mayawati as his successor.
She was no longer connected with the people and had left the path of struggle, he said.
"At a meeting held in Delhi on July 23, she ordered that henceforth a table and chair should be placed on the dais as she would now sit and address rallies," Saroj claimed.
Over a period of time Mayawati has removed the old guard with whose support Kanshi Ram had built the party organisation. "Today, she is left with only two of them---Sukhdeo Rajbhar and Ram Achal Rajbhar. Satish Chandra Mishra, Ramveer Upadhyay and Lalji Verma, who are also with her, joined much later," said Saroj. "The party organisation was in a shambles," he pointed out.
The other Kanshi Ram loyalists who were ousted from the party included two former Rajya Sabha MPs---Baliram Babu and Ambeth Rajan, Raja Ram and Daddu Prasad.
Professor Badri Narayan dismisses the view that the days of Dalit politics in UP were over. "It would be wrong to say that. Dalit politics will be there but its form may change," he said.
Mayawati, he explained, will pose a challenge to the BJP but whether she will be successful will depend on her leadership style. "She will have to change the language of political discourse and connect with the people."
Saroj does not visualise Mayawati changing either her style or vocabulary. In the 2014 parliamentary elections her party's vote share of 19.60 per cent did not translate into a single seat and he does not expect the results to be any better this time because she has lost touch with the people.
Prof Narayan was of the view that Mayawati had failed to respond to the changed aspirations of Dalits in the new socio-economic dimension of empowerment.