Lok Sabha election 2019: Bihar CM Nitish Kumar strikes seat-sharing deal with BJP for Lok Sabha polls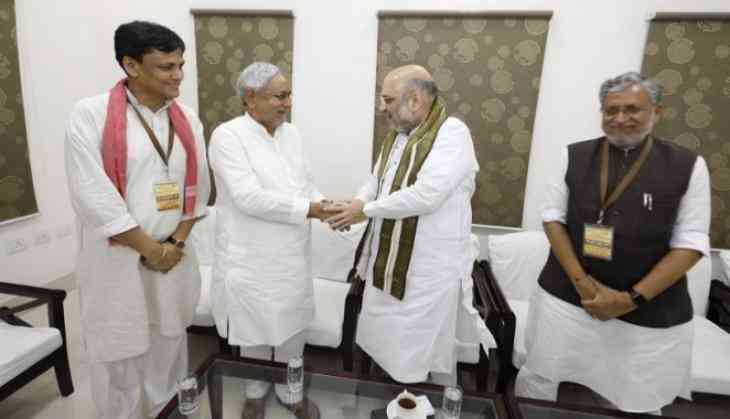 Nitish Kumar with Amit Shah
Chief Minister of Bihar Nitish Kumar has finally struck a deal with the ally BJP for the upcoming Lok Sabha election in 2019. The Janta Dal United and BJP are the main players of the National Democratic Alliance in Bihar.
The agreement between the two parties was reached in September itself and a formal announcement will be made soon in the matter.
The two parties (JDU and BJP) were waiting for an NOC from its other two allies, which includes Ram Vilas Paswan led Lok Janshakti Party (LJP) and Upendra Kushwaha's Rashtriya Lok Samata Party (RLSP).
As per a report by NDTV, BJP will contest 17 parliamentary seats while the JD(U) would contest 16 seats in the state.
The remaining two parties LJP and RLSP will contest from five and two seats respectively, in the 40 constituencies of the Lok Sabha.
Earlier, both Paswan and Kushwaha had reservations with the seat sharing among the parties and their outfits getting neglected. Kushwaha even issued a statement which raised the eyebrows of the BJP high command, and hence the latter has a contingency plan for the upcoming election, in case Kushwaha spilts with the RJD.
Kushwaha had earlier said that "I say it with utmost sense of responsibility that there some in the NDA who do not want to see Narendra Modi as the PM (second time). It is they who are creating confusion regarding seat-sharing among the Bihar NDA constituents."
Now, the churning of votes and seats will keep happening until the election is around the corner, although the voting trends happen on caste basis and Ram Vilas Paswan and Upendra Kushwaha will play as the trump card for the BJP in consolidating the votes.
Also read: Lok Sabha election 2019: Opposition parties form a 'grand alliance' to defeat BJP in Jharkhand during Lok