Kumaraswamy swears in amid bonhomie in rainy Bengaluru. Dark clouds for BJP?
Three days before Narendra Modi completes four years in office, a large section of political parties opposed to him presented a colourful show of strength in Bengaluru Wednesday. The occasion: the swearing-in of HD Kumaraswamy as the chief minister of Karnataka.
It was a short affair: the Janata Dal (Secular) leader was quickly administered the oath of office as was state Congress chief G Parameshwara (as Kumaraswamy's deputy) by Governor Vajubhai Vala, preceded and followed by the National Anthem.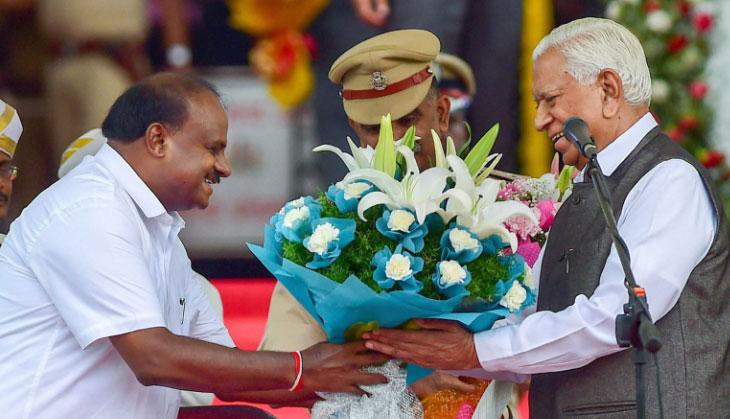 Karnataka Chief Minister HD Kumaraswamy being greeted by Governor Vajubhai Vala. (PTI)
The cheers of the green-and-white flag-waving JD(D) supporters collected on the lawns of the Vidhana Soudha – Karnataka's legislative seat that the BJP so desperately wanted to dominate – spilled over up to the High Court premises across the road.
The brevity of the occasion was outdone by those cheers as it was by the bonhomie on display on the stage by a veritable who-is-who of Indian politics: Bahujan Samaj Party supremo Mayawati in a trademark neutral suit, beaming, was one of the first to enter the frame. She was seated next to new-found ally in Uttar Pradesh, Samajwadi Party President Akhilesh Yadav.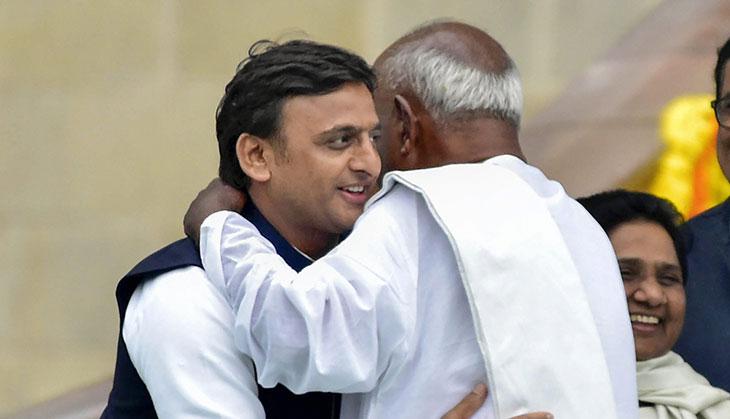 Samajwadi Party leader Akhilesh Yadav recieves a hug from Janata Dal (Secular) patriarch and former PM HD Deve Gowda (PTI)
From the other side entered West Bengal Chief Minister Mamata Banerjee in her usual white cotton sari, walking with a purpose up to Kumaraswamy. Sharad Yadav, who has only recently launched the Loktantrik Janta Dal, walked over to greet her.
The CM-designate walked in with his family. His father and party patriarch, former prime minister HD Deve Gowda, walked up to the front stage and bowed to the crowd in front. The last time his son took this oath – 12 years ago, supported by the BJP – he had distanced himself, keeping his anti-BJP credentials intact.
There was Nara Chandrababu Naidu, the CM of Andhra Pradesh, a part of the BJP-led National Democratic Alliance, up to only recently. From Maharashtra, Nationalist Congress Party leader Sharad Pawar, a veteran of many political fights, attended. From the Left there were Communist Party of India (Marxist) General Secretary Sitaram Yechury, his Kerala CM Pinarayi Vijayan and CPI National Secretay D Raja.
Staunch Congress ally Rashtriya Janata Dal was represented by party chief Lalu Prasad Yadav's son Tejashwi. He might have been the youngest among the guests but was among the most vocal supporters of Kumaraswamy being made the CM when Governor Vajubhai Vala overlooked him for BS Yeddyurappa from parent BJP. There was also western UP strongman Ajit Singh of the Rashtriya Lok Dal.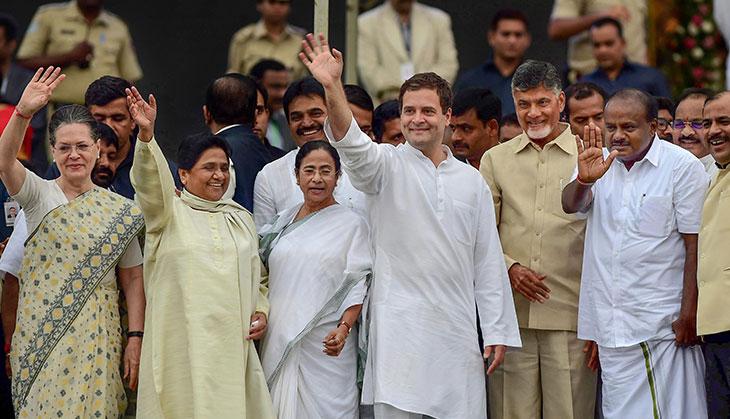 Sonia Gandhi, Mayawati, Mamata Banerjee, Rahul Gandhi, Chandrababu Naidu and HD Kumaraswamy greet the people at the latter's swearing-in. (PTI)
Congress President Rahul Gandhi walked in with his mother and United Progressive Alliance chairperson Sonia Gandhi and outgoing CM Siddaramaiah.
Tamil Nadu Opposition Leader MK Stalin of the Dravida Munnetra Khazagam, could not attend as he went to Thoothukudi after Tuesday's police firing killed 11 anti-Sterlite protestors.
Telangana CM K Chandrasekhara Rao and Delhi CM Arvind Kejriwal had met Kumaraswamy earlier. Odisha CM Naveen Patnaik skipped the event citing planned engagements.
But Wednesday was about those present on the stage and the possibilities they can create. Usual bickering was replaced by smiles, hugs and holding hands. Sonia's show of warmth to the senior leaders, especially to Mayawati and Banerjee was not missed by the cameras.
Ditto for the affection that seniors bestowed upon young 'uns like the two Yadavs. Their fathers – Mulayam Singh and Lalu Prasad – had been part of several such endeavours during their 'Janata' days.
FLASHBACK POLITICS
One can't be blamed for thinking that the old Janata experiment was the leitmotif throughout Wednesday's event. The throw-back to 1996 was imminent: Deve Gowda was then chosen to lead the central Cabinet by the Janata Dal-led United Front, supported by Congress, to keep the BJP from forming its first government.
The passionate movement for building a Ram temple in Ayodhya in place of the Babri Masjid had permanently changed political equations. The Janata Dal was forged in 1988 by former PM VP Singh on a strong anti-Congress plank. He also united a disparate group of leaders from Assam to Tamil Nadu on the same issue. With outside support from the BJP and the Left he ascended the hot seat in 1989.
But the very next year he had to give up power after Lalu Yadav – then Bihar CM from Janata Dal – stopped Lal Krishna Advani's Ram juggernaut and arrested him in Samastipur. Tejashwi had not even turned one then; Akhilesh was 13.
Deve Gowda's own government tumbled down in 1997 when the Congress, then led by Sitaram Kesri, refused to continue support. For a few more months Inder Kumar Gujaral continued heading that government until eventually the Congress completely withdrew support in 1998. That was the end of the United Front as it was known then. Subsequent efforts to work out 'Third Fronts' proved futile.
Twenty years later, the same Deve Gowda was like a mascot on the stage on Wednesday, a nucleus of political heavyweights forming around the swearing-in of his son. The Congress is again in a supporting role with more seats, but as a partner in government this time.
If the goal then was to resist the BJP from assuming power in the aftermath of the Babri demolition (1992) and a corruption-stained reign of PV Narasimha Rao, this time it is to stop the saffron party's victory march and oust it from power.
That is a tall task, but ousting the Congress also once looked equally difficult. Yet it was achieved through years of collaboration. Is India looking at another such political realignment? Will it last?
After Kumaraswamy's oath-taking one lasting image was him holding hands high with Congress strongman DK Shivakumar. The two Vokkaliga leaders from different parties have had a bitter relationship until now, but Shivakumar was one of the force behind guarding the JD(S)-Congress flock together from being poached by the BJP.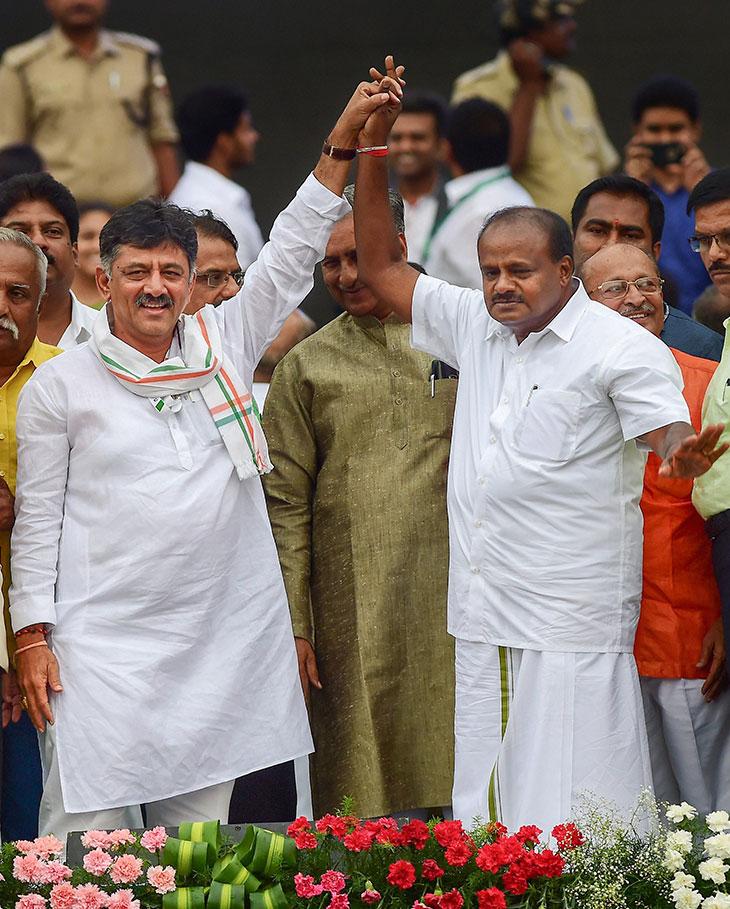 DK Shivakumar and HD Kumaraswamy holding hands. (PTI)
If their show of unity survives the topsy-turvy of governance, if the two parties can start for Lok Sabha 2019 United then that can be a primer for all those on the stage Wednesday. And if they do bury mutual differences and ego then BJP chief Amit Shah should be a worried man. For ensuring Narendra Modi's second term as PM, 31% (voteshare) will then not be enough.