#JNURow: Now academics from Japan say why JNU VC was wrong
Catch Team
| Updated on: 14 February 2017, 5:46 IST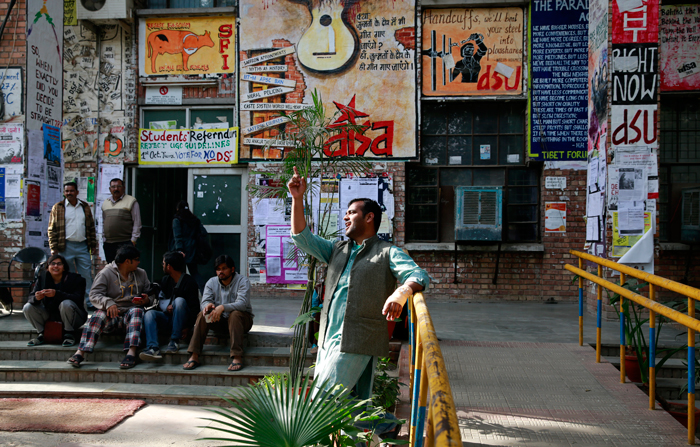 Dear JNU Vice-Chancellor Professor M Jagadesh Kumar,
Since several leading universities in Japan have already exchanged MOUs with JNU and many research collaborations are going on between them, the current situation at JNU concerns us immensely.
Many of our Japanese colleagues working on South Asia have greatly benefited from high-standard, liberal, open-minded, academic research and teaching environment of JNU for so many years. It is therefore painful to watch how freedom of expression and autonomy of university has been largely undermined at JNU.
JNU has recently given honorary doctorate to our current Prime Minister Shinzo Abe. We would like to quote his speech at JNU to express our concerns and hope for the future of JNU.
"India is a country with a population of over 1.2 billion people. It is a country that respects freedom and democracy amidst diversity, and upholds human rights and the rule of law. The public and private sectors of Japan will work together and cooperate for the development of India. It is decisively important for the benefit of Asia and the world in the 21st century that Japan and India, as countries sharing fundamental values, cooperate even more closely in every field."
We do hope that we will continue to share fundamental values of freedom and democracy.
Aya Ikegame
Tokyo University
Statement in Support of the Teaching and Student Community of Jawaharlal Nehru University
[This statement is issued in our individual capacities, and does not represent the opinion of any institution]
We, the undersigned members from various educational, research and teaching institutions in Japan are deeply concerned and disturbed by the recent situation in Jawaharlal Nehru University.
As a premier institution of learning in the world, JNU has made very significant contributions to teaching and research. It has research collaborations with academic institutions all over the world, and is celebrated as an important and vibrant space for critical thinking and democratic expression. Unfortunately in consequence of recent events these values, collaborations, and the reputation of Jawaharlal Nehru University appear to be under threat.
In this difficult hour, we request the Indian government to uphold the freedom of speech that is essential to any national institution of Higher Education and ask that they endeavour to ensure the continued autonomy and functioning of the University.
Signatures
Rohan D'Souza, Associate Professor, Graduate School of Asian and African Area Studies, Kyoto University
Akio Tanabe, Professor, Graduate School of Asian and African Area Studies, Kyoto University
Aya Ikegame, Associate Professor, Institute for Advanced Studies on Asia, the University of Tokyo
Etsuro Ishigami, Professor, Faculty of Commerce, Fukuoka University
Fumiko Oshikawa, Japanese Association of South Asian Studies, Emeritus Professor, Kyoto University
Kazuya Nakamizo, Associate Professor, Graduate School of Asian and African Area Studies, Kyoto University
Ines G. Zupanov, Professor/Director, Centre d'etudes de l'Inde et Asie du Sud (CNRS-EHESS), Paris (currently visiting professor at Institute for Advanced Studies on Asia, the University of Tokyo)
Jun Obi, Lecturer, The Faculty of Intenational Relations, Daitobunka University
Ayumu, Yasutomi, Professor, Institute for Advanced Studies on Asia, the University of Tokyo
Kyoko Matsukawa, Associate Professor, Faculty of Letters, Konan University
Atsushi Kato, Professor, School of Business, Aoyama Gakuin University
Tsukasa, Mizushima, Professor, Graduate School of Humanities and Sociology, Tokyo University
Sae Nakamura, Research Associate, Graduate School of Asian and African Area Studies, Kyoto University
Yu Sasaki, Independent Scholar.
Heiji Nakamura, Emeritus Professor, Tokyo University of Foreign Studies
Mari Miyamoto, Newton Fellow, SOAS South Asia Institute, SOAS
Makiko Kimura, Associate Professor, Department of International and Cultural Studies, Tsuda College
Kenta Funahashi, Research Associate, Center for the Study of Contemporary India, Ryukoku University