#JNUmarch: Kanhaiya takes centrestage, ignores Umar Khalid, Anirban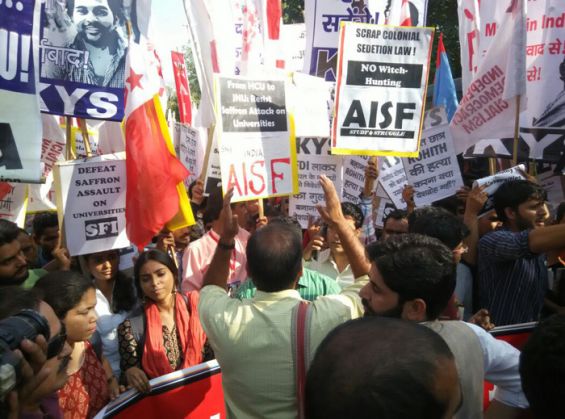 The highlight of Tuesday's protest march by students, mostly from the JNU, was another dazzling speech by Kanhaiya Kumar.
Dazzling because the speech, targeted at Prime Minister Narendra Modi and the RSS, the wellspring of Hindutva organisations, almost blinded one to the fact that the march had been called in solidarity with the two JNU students who have been jailed for 21 days for sedition.
Apart from "saluting" Umar Khalid and Anirban Bhattacharya, the JNU Students Union president didn't mention them in his hour-long speech, let alone demand their release.
He railed against "RSS reactionaries" and the organisation's questionable role in India's freedom struggle; criticised the latest budget, controversial changes in school syllabi, objectionable amendments to the Panchayati Raj Act; and asserted his belief in the constitution. It was a typical politician's speech.
It was delivered to 1,500-2,000 students, teachers, academics and activists of all hues of the leftist political spectrum from Delhi, Aligarh, Uttarakhand and some other places who had joined the march, which began near Mandi House and ended on Parliament Street near Jantar Mantar.
This crowd was not even a fraction of the estimated 10,000 people who had turned out in support of Kanhaiya a few weeks ago.
The march for Umar Khalid & Anirban drew only about 2,000 people. Kanhaiya's had drawn 10,000. Why?
Kanhaiya's speech was preceded by a brief address by the writer and activist Arundhati Roy, who said the students were part of a fight between those who think and those who hate.
In the crowd was Kulsum Fatima, Khalid's sister. Speaking to Catch, she said her family was "prepared for a long fight".
Kulsum spoke about how Khalid's name had become a sort of taboo, how when their mother heard his name on TV after several days, she cried with joy, how she still can't leave her house without escort.
Listen to the conversation here.
Kanhaiya wasn't sure to join the march till the last minute for fear it would amount to violating his interim bail conditions.
The first thing that came out of Kanhaiya's mouth was a request to the media to not make much noise to get his photographs and bytes, "I am an ordinary student not a star." But the rest of what he said was addressed directly to the Prime Minister of India. "Modiji if you are listening to me right now..." he threateningly began his sentences several times. His speech attacked the Modi government for trying to put curbs on universities and blamed for the "murder" of Dalit scholar Rohith Vemula.
Protesting students are part of a fight between those who think and those who hate: Arundhati Roy
Apparently targeting Zee News, he talked about one TV channel's witch-hunt against JNU's students and teachers. He described how a prominent professor at the university - Nivedita Menon - has come under attack on various media after a Zee described her as anti-national.
The channel's "persecution" of Menon has drawn widespread condemnation; 139 scholars, academics and teachers from across the world signed a petition in her support on Tuesday. The petition said Zee's "hit-job" was "tantamount to a television channel acting as both judge and jury, and directly placing an individual's rights and safety under threat". It also called on the university's vice chancellor to defend her from such attacks.
Kanhaiya then talked about how the RSS controls the Modi government and its policies, and about the divisive nature of the prime minister's governance, his "divide and rule" policy.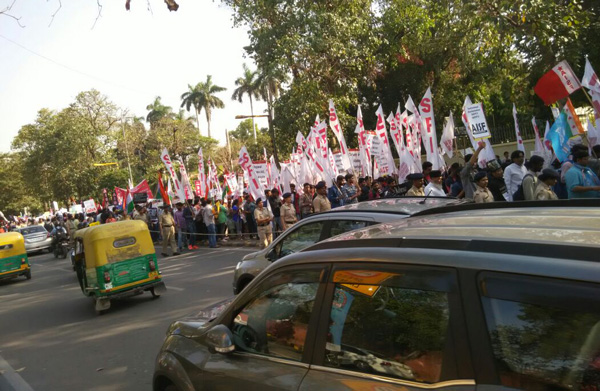 He also clarified, and promised, that he wasn't joining any political party but would forever remain a political activist.
The speech, though, didn't impress everybody. One JNU student remarked that all Kanhaiya seemed "obsessed" with these days were national issues. "The issue of getting Umar and Anirban back to the campus has taken low priority," said the student, who didn't want to be quoted because she didn't "want to seem to break the JNU solidarity".
Ajay, another JNU student who did not give his full name or any other details for the same reason, added, "Sri Sri Ravi Shankar praised his speech recently. You know, if people like him are doing this, it means that Kanhaiya is making more popular noise than incisive remarks. He seems to be addressing Modi directly rather than the students."
Abhay Kumar, who is doing his PhD in modern history, said he was disappointed that Kanhaiya had not talked about Khalid particularly. "Everyone knows Khalid was picked on specifically because he had a Muslim name. He should have spoken about it. And he should have condemned the AFSPA against which Umar and Anirban have been protesting all the while so as to give moral support to them."
Edited by Mehraj D. Lone