Puratchi Thalaivi's remarkable journey: how Mysore's Komala became Tamil Nadu's Amma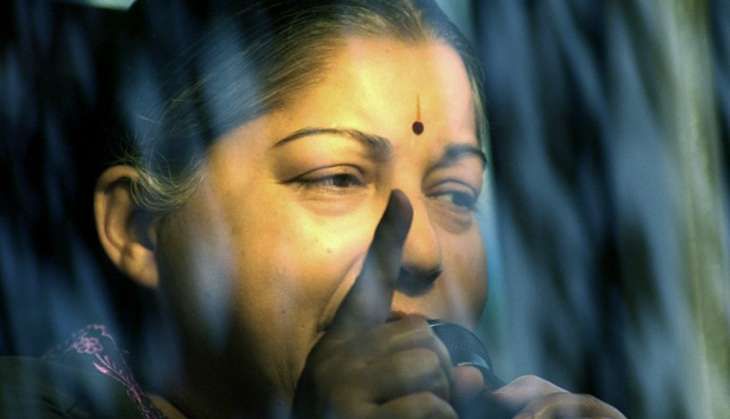 Tamil Nadu Chief Minister J Jayalalithaa has passed away at the age of 68, after suffering a cardiac arrest on Sunday.
She was declared dead by Chennai's Apollo Hospital, with the official time of death pegged around 11:30pm.
Jayalalithaa had been in hospital since 22 September, where she was being treated by a team of cardiologists, pulmonologists and critical care specialists.
Her ardent supporters in the state are distraught with these developments, and expectedly so, considering she has been the most popular figure in Tamil Nadu politics for close to four decades.
Early life and stardom
Jayalalithaa's stardom on and off the screen was certainly not preordained.
Born to Jayaram and Vedavalli on 24 February 1948, in the princely state of Mysore, baby Jayalalithaa was named Komalavalli by her parents. Her father died when she was only two.
This pushed the family into despair. Vedavalli tried her luck in the Tamil film industry and found quick success, but the doting mother wanted to keep her children away from the glamour world and ensure that they received the best education. Jayalalithaa was shifted to Bangalore to finish high school, before moving to Chennai for further studies.
Jayalalithaa accompanied her mother to a film party where a producer, enamoured by her beauty, offered her a role in a Kannada film, Chinnada Gombe (1964). A year later, she made her Tamil debut with Vennira Aadai (1965).
When established star MG Ramachandran saw the rushes of Vennira Aadai, he wanted her to be paired with him in his next venture. Their first film, Adimaippenn (1969), broke all records, and ran to packed houses for a hundred days in all the major cities of Tamil Nadu. Despite their age difference of thirty-one years, the two struck a friendship that would change the face of Tamil Nadu in the years to come.
The MGR years
In Tamil Nadu, the lines between real and reel life are often blurred, and as a consequence, several film stars jump into the political fray to exploit this cocktail of glamour and power.
It all started with MGR who not only ruled the hearts of millions with his screen portrayal of Robin Hood-like characters, but also as a wily politician. He ruled the hearts of the poor with his benevolence, while his good looks made him a ladies' man, and brought millions of women to the poll booths to vote for their favourite superstar.
In 1982, Jayalalithaa, at the age of just 34, announced her arrival in Tamil Nadu politics when she delivered a powerful speech in her first public gathering in Cuddalore on the glory of womanhood (pennin perumai). She mesmerised the crowds, especially women, with her eloquence and oratory prowess. When she left the stage, Jayalalithaa had transformed from an actor to politician. It was in this year that she joined the AIADMK.
Her speech at Cuddalore deeply impressed MGR, who created a new post and made her the propaganda secretary in 1983. From here on, MGR's companion on screen had become his partner in politics too.
Jayalalithaa was now part of MGR's trusted circle, and this proximity to the matinee idol and Chief Minister earned her the ire of others. They began feeding stories about her to the press, and alleging that her association with the Chief Minister could hurt his political career.
MGR, too, wasn't pleased with this independent young woman with a free will. The pressure from her detractors and MGR's obsession to tie her down took a toll on their relationship, and they parted ways. This was the first in the series of differences that would surface between the two.
MGR's suspicions were not unfounded.
In 1984, when he suffered a stroke and was recuperating in the US, Jayalalithaa is said to have approached the then-Prime Minister Rajiv Gandhi to appoint her as the next CM. The news was widely reported and when an ailing MGR returned to Chennai, he took away the post of propaganda secretary and that of the deputy leader of the parliamentary party.
Enraged by MGR's move, Jayalalithaa threatened to split the party. By now, she had built her own coterie. MGR was forced to call for a truce.
She even declared that from now on, she was on her own, and would not be influenced by anyone. Their hot and cold relationship continued till MGR died in 1987.
Power struggle
MGR's death resulted in a power struggle in the AIADMK, with his wife Janaki claiming to be the rightful heir to his political legacy. With the support of the anti-Jaya brigade, two weeks after his death, Janaki was sworn in as the Chief Minister, and given three weeks to prove her majority.
The Janaki government lasted only 23 days, and the Central government imposed President's Rule in the state. Elections were held, and the Jayalalithaa-led faction became the principal Opposition party in the Assembly. The two factions of the AIADMK merged later that year, and accepted Jayalalithaa as their supreme leader.
But, it was the budget session that year which really propelled her political career.
During the budget session of the house, heated words were exchanged between Chief Minister M Karunanidhi and Jayalalithaa, resulting in mindless violence in the Assembly. Scuffles broke out between the two parties, and when she was about to leave, a DMK minister, Durugai Murugan, manhandled her.
A visibly upset Jayalalithaa vowed to not attend the Assembly until it was fit for women. In a way, she suggested that she would only return as the Chief Minister and not otherwise. From here on, Karunanidhi became her main rival, ushering in an era of political vendetta in Tamil Nadu politics.
She even used the incident in the legislative Assembly for political gains, and during the campaign phase of the 1991 elections, she called Karunanidhi a 'Duryodhana' and Murugan 'Dusshasana', who tried to disrobe her. She was playing Draupadi for the mythology obsessed Tamil people, and the electorate gave the AIADMK a resounding mandate in the 1991 elections.
First term as CM and fall from grace
Her party won 164 seats, a jump of 137 seats since 1989, and the AIADMK-Congress alliance secured 225 seats. With this victory, Jayalalithaa had moved out of the shadow of MGR and become the undisputed leader of the party.
On 24 June 1991, she was sworn in as the 21st CM of the state. Her victory defied logic. A Kannadiga Brahmin and a woman had become the Chief Minister of a state that was a hotbed of casteist politics and male-dominated Dravidian rhetoric.
However, her first term as CM was marked by controversies, wherein she committed every act of impropriety and displayed a fetish for extravagant lifestyle. The extravagant marriage of her foster son, for which she splurged crores, had even her staunch supporters questioning her motives.
In the run up to the 1996 polls, Karunanidhi made corruption an election issue, and promised to bring all persons perceived to be corrupt to the book. When Jayalalithaa finished her term, the writing was on the wall. She lost miserably, including her own seat in the 1996 elections, and the AIADMK's tally came down to just four, a loss of 160 seats.
After DMK stormed to power, it slapped 48 cases of corruption against Jayalalithaa, her aide Sasikala Natarajan, her family members, senior IAS officers and AIADMK ministers. In a disproportionate case, the chargesheet filed by the state police claimed that Jayalalithaa and three of her associates acquired assets worth Rs 66.65 crore. This was disproportionate to her known sources of income, because she took only Re 1 per month as salary when she was the Chief Minister from 1991 to 1996.
In 1997, when the Directorate of Vigilance and Anti-Corruption raided her residence, they confiscated 10,000 sarees, 750 pairs of footwear, watches, and jewellery, including a gold belt with diamonds.
Jayalalithaa and Sasikala spent a few days behind bars, and despite the best efforts of the then government, her aide never turned approver or gave any leads that could have implicated the Chief Minister.
National prominence, rock bottom and a golden run
The late 1990s was also the phase of the rise of regional forces in national politics (remember the United Front government?).
Jayalalithaa soon to realised this, and began arm-twisting governments at the Centre. She got into alliances with both the Congress and the BJP, only to dump them at her convenience, earning the epithet 'Queen of U-turns'. A serial flip-flopper, she alternated between the Congress and the BJP between 1998 and 2002.
She then aligned with the Congress in the 1999 general elections, but lost miserably. When she returned to power in the state in 2001, she started to send feelers to the BJP, which was leading the coalition at the Centre.
During the 2004 Lok Sabha elections, she went into an alliance with BJP, and failed to win a single seat. She then lost the 2006 state elections, and the DMK was back in power.
Ever since Jayalalithaa took over the state in 1991, the two major parties had taken turns ruling the state. In 2011, history repeated itself and after five years of DMK's rule, Jayalalithaa returned to power with an overwhelming majority. Corruption charges against DMK leaders, coupled with bad governance, aided Jayalalithaa's return to power.
In 2014, Jayalalithaa swept the Lok Sabha elections in the state, winning 37 of the 39 seats, while the DMK failed to win a single seat.
It was only earlier this year, for the first time in 25 years, that Jayalalithaa bucked the trend. Her golden run continued in this year's Assembly polls, as she won a comfortable majority, becoming the Chief Minister for a second consecutive term.
To be sure, Jayalalithaa leaves behind an unparallelled legacy, not just in Tamil Nadu, but in the history of Indian politics.
Edited by Shreyas Sharma