Jayalalithaa declares assets worth Rs 113 crore; Karunanidhi claims to have Rs 13 crore
S Murari
| Updated on: 27 April 2016, 17:28 IST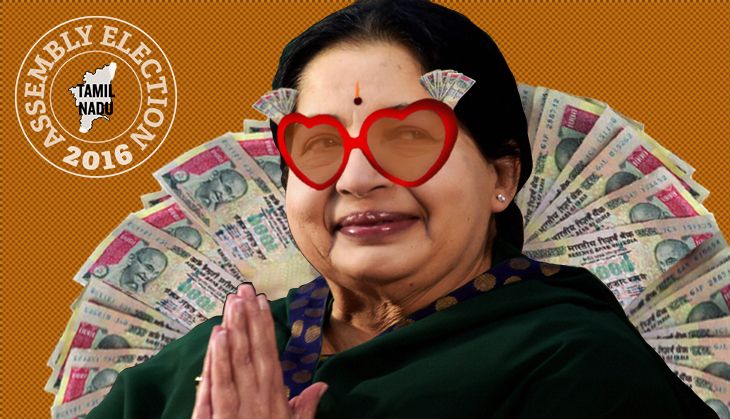 Tamil Nadu Chief Minister and All India Anna Dravida Munnetra Kazhagam (AIADMK) leader J Jayalalitha has declared assets of Rs 113 crore, while her contender for power and DMK president M Karunanidhi has split his assets among his two wives and says he has only Rs 13 crore.
According to assets declared by the two principal candidates while filing nomination papers, Jayalalitha has movable assets of Rs 41 crore and immovable property worth Rs 72 crore. These include bank deposits of Rs 10.63 crore and investments in firms totaling Rs 27.44 crore. 
Besides, she has farm land in Hyderabad and commercial buildings in Chennai. Her 2,000 sq ft Poes Garden residence 'Veda Nilayam', bought by her mother Sandhya in 1967 for Rs 1.32 lakh, has appreciated now to Rs 43.96  crore, she has said.
Jayalalitha's declaration of assets assumes importance because she was convicted in 2014 by a special court in Bengaluru of having had assets worth Rs 56 crore disproportionate to her known sources of income during her first tenure as Chief Minister of Tamil Nadu from 1992 to 96 when she was drawing a nominal salary of one rupee a month.   
Her conviction led to her unseating as Chief Minister. It was only only after she was acquitted by the high court in March 2015 that she resumed office. The Karnataka Government's appeal is now pending before the Supreme Court.
However her declaration of present assets will have no bearing on the case as it relates to the period 1992-96.
However, she has said that she has 21,280.300 grams of gold but that its value cannot be ascertained as they were seized by the Tamil Nadu vigilance police in 1996 and are now with the Karnataka government treasury. 
Meanwhile, the 93-year-old Karunanidhi is vying to become Chief Minister for a sixth time. But of these, he only completed the full term of five years twice - from 1996 to 2001 and again from 2006 to 2011.
Karunanidhi has declared his assets as Rs 13.42 crore, all bank deposits. He does not have a car, nor land or a house. He had an annual income of  Rs 1.21 crore in 2014-15. 
Karunanidhi has bequeathed his Gopalapuram road-side house to his first wife Dayalu Ammal . However it will be only for her lifetime after which it will go to the Anjugam Trust on the condition that it be converted into a hospital, according to his will. Dayalu Ammal has assets worth Rs 15 crore, including a Rs 6 crore share in the family-run Kalaignar TV.  
His recently-built, posher house in the upmarket CIT Nagar in the same neighbourhood has been given away to his second wife Rajathi Ammal. Rajathi Ammal, who is the mother of Rajya Sabha MP Kanimozhi, has assets estimated at Rs 42 crore.