How BJP has upstaged Left & Congress as Bengal's main Opposition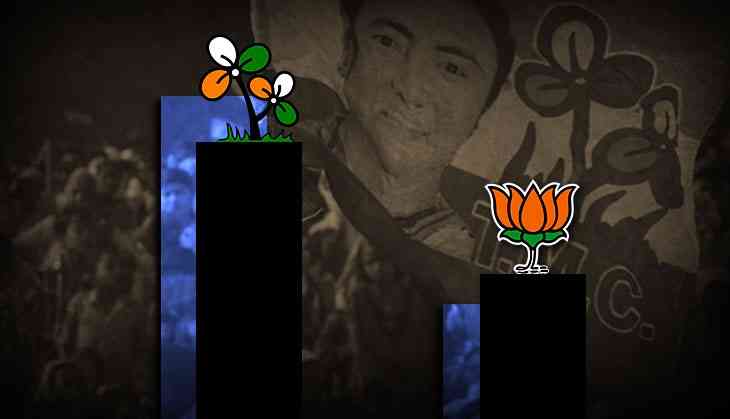 The Bharatiya Janata Party may have failed to win any civic body in the recently concluded polls in Bengal, but it emerged as the clear challenger to ruling Trinamool Congress in the state.
Some sources in the BJP even claimed that the party bagged 25 per cent of the votes cast, way more than its 10.5 per cent vote share in the 2016 Assembly elections.
Mamata Banerjee's Trinamool made a clean sweep, winning Durgapur Municipal Corporation and all the municipalities that went to poll: Haldia and Panskura in East Midnapore, Cooper's Camp in Nadia, Nalhati in Birbhum, Buniadpur in South Dinajpur and Dhupguri in Jalpaiguri. It won 140 of the 148 wards in the seven civic bodies.
But the BJP bagged six wards, while the CPI(M) and Congress drew a blank.
The party claims that it has made significant gains in certain areas. For instance, it says its vote share in Dhupguri increased from 15% in the Assembly elections last year to 43% and in Buniadpur in South Dinajpur it is said to have increased from 6% to 20%. The increase in Nalhati in Birbhum is said to be the same as Buniadpur.
But the BJP which has been constantly attacking TMC for being pro-minority, failed to achieve the kind of Hindu consolidation it had hoped for. The results made it evidently clear that voters in Bengal, irrespective of their religion, still prefer TMC. The BJP and RSS's constant attacks on Mamata Banerjee, even to the extent of calling her pro-Jihadi, have failed to get any traction from voters. Even the corruption charges against certain TMC leaders have failed to tarnish her image.
The BJP, however, attributes this to rigging by the ruling party.
West Bengal BJP General Secretary Sayantan Basu said "There were reports of large scale rigging by the ruling party in several wards. If elections were held in a democratic manner, our vote share would have increased even more".
Some political analysts are of the opinion that BJP's win in a few wards and the increase in its vote share was the result of a feud within the TMC. A few analysts also point out that the CPI(M)'s vote share seems to have shifted to the BJP.
"We feel that BJP rise in Bengal is only due to increased internal feud inside TMC. TMC lost ward 1 and 8 in the Nalhati municipality. On Thursday Birbhum district president Anubrata Mondal claimed that depending on fisheries minister Chandranath Sinha and biotechnology minister Ashish Banerjee was his greatest blunder. He has convened a meeting to discuss how the internal feud within the TMC in Birbhum can be controlled."
However Amol Mukherjee, former principal of Presidency College and political analyst said, "If we analyse the results of the elections held in West Bengal since 2014, we can say that CPI(M) vote share has shifted to BJP and as a result they have slowly occupied the Opposition space in West Bengal. There was no presence of BJP in semi-urban areas. But as people want an alternative, BJP has slowly been able to increase its influence. The Left Front has moved to the third position".
The Congress has been reduced to ashes in the recent elections. In 2012, Congress had won three wards in Nalhati in Birbhum. Between 2002 and 2007, Congress had formed the civic board at Nalhati. But this time it has not won a single ward.
Abdul Mannan Congress leader said "We are analysing the results of the elections and only after that we can comment on the reason behind our poor performance".
Some analysts believe that the tie-up between the CPI(M) and Congress has not yielded the desired results and the vote share of both parties decreased. They also claimed that mass defections from CPI(M) and Congress to TMC is also an important reason for their poor performance.
According to Lahiri, "Ward number 16 of Nalhati municipality had been under CPI(M) for a long time but this time CPI(M) lost to TMC as the CPI(M) councilor joined TMC before the elections. Several functionaries from CPI(M) and Congress defected to TMC".