How BJP CMs are taking the 'Modi Model' of branding a bit too far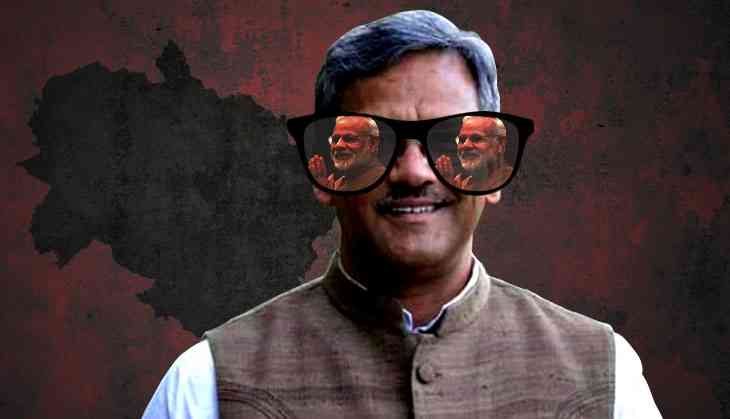 (Arya Sharma / Catch News)
Chief Ministers heading Bharatiya Janata Party (BJP) governments in various states seem to be taking the much peddled 'Modi Model' a bit too far. They are too engrossed in following whatever Prime Minister Narendra Modi has been doing in his earlier avatar as the Gujarat Chief Minister and now as the Prime Minister of the country.
It is a well known fact by now that Modi leaves no occasion or event to garner positive press coverage for himself in his quest to develop himself as a brand even though the event might be of little or no consequence or something that is too personal a matter. Now it is the CMs who have started speaking his language on every occasion.
This phenomenon can be best highlighted by the Uttarakhand CM Trivendra Singh Rawat's drive for publicity. One just needs to sample the brief press note that the state's information department circulated on Sunday night that had the headline, 'Within an hour of complaint on CM's Uttarakhand Mobile App, help provided for the cremation of cow'
The press note then went on to read, "On a complaint lodged on Uttarakhand CM's Mobile App at 5 pm on 12 May, the Chief Minister's office got information that a cow has died in Gaushala of Amit Singh at Kartar Dairy Farm Missarwala Kala, Doiwala but on account of second-Saturday holiday, they did not got any assistance for the cremation of the cow and next day as well, the offices were supposed to remain closed because of Sunday.
"After making hectic efforts the whole day, Amit Singh lodged a complaint seeking help on the CM Uttarakhand Mobile App on May 12 at 5 pm. Acting promptly for the redressal of the complaint, ADM, Dehradun and Doiwala police were intimated. After receiving information from CM's office, police and administrative officials reached Amit Singh's Gaushala within an hour and got the cow cremated. Amit Singh has thanked the Uttarakhand Chief Minister. Trivendra Singh Rawat and Dehradun district administration and Doiwala police."
One can see that things have come to a pass that 'cremation' of a cow has also become an event of sorts to get publicity.
Just the day before, Rawat's publicity wing was circulating media briefs on how he remembered his mother Late Bodha Devi with the message that every mother loves the youngest child the most and being the youngest in the family, he was showered with utmost love and affection.
He added that whenever he had wished to go for his studies, social or political works, his parents always encouraged him. He said whatever he has achieved or whatever position he has reached was only due to his parents. Rawat said where ever he stayed, he used to get time to meet his mother and spent time with his parents.
Now is it not similar to what Modi has been doing using the pictures of his mother at various occasions including the demonetisation fallout. The media has been too keen to show his picture taking his mother around and her also travelling in an auto. If he can indulge in such publicity gimmicks, why can't the likes of Rawat.
On the occasion of the 'Mother's Day' he even sent out a public address to the mothers that was more of a preaching. The message read, "It is being said that mother and motherland are great than the heaven and I feel myself very fortunate that with your love and blessings, I got the privilege to serve you both. The respect with which I served my mother, with same feelings, I am committed to serve my motherland Uttarakhand."
Observers have been pointing that his entire political narrative is around 'Modi's dreams' that he has been trying to fulfill. "The whole narrative of the 'Double Engine Sarkar' where the same party is in power in both the state and the centre is being played to the hilt. The fact is that the government is yet to come out with some concrete achievement to show. The issues on which this government was elected to power remain unresolved. Political posturing and rhetoric is being dished out continuously while a huge effort is being made to build a positive image through media," said a senior political adviser.
What is on display is making the 'Modi Model' work all across where hype and hoopla overshadow the actual performance. Uttarakhand seems to be following this model in all earnestness.