Happy birthday PM Modi! Let's celebrate by detaining Dalit and Patel leaders
Rathin Das
| Updated on: 11 February 2017, 5:45 IST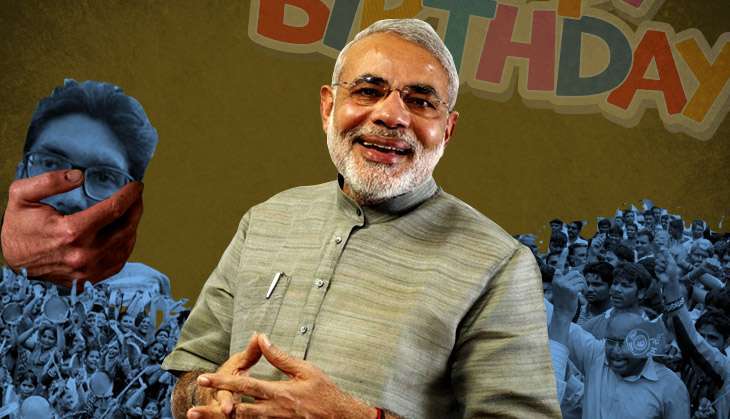 Prime Minister Narendra Modi's 67th birthday has started off rather interestingly. His two-day visit to his home state was marked by the murder of a Muslim youth by cow vigilantes and the detention of two leaders who have managed to shake up BJP in the state.
The first being the man who headed the Dalit uprising in Una, Jignesh Mevani and the other, a leader of the Patel's reservation stir and nearly 400 activists.
The Muslim youth, 29-year-old Mohammad Ayyub who was among the three intercepted and thrashed by self-styled cow vigilantes on the day of Eid Ul-Adha, succumbed to his injuries on Friday.
Mevani was detained at the Ahmedabad airport on Friday evening when he returned from Delhi after a rally for the Dalit cause in the national capital.
On Saturday Mevani announced that he was under 'house arrest' with a Facebook post -
Also detained along with Mevani were nearly 400 Patel agitation activists led by Reshma Patel of the Patidar Anamat Andolan Samiti (PAAS).
As Jignesh Mevani was whisked away to the Detection of Crime Branch (DCB), nearly 100 Dalits gathered outside its office and shouted slogans demanding his immediate release.
Modi too flew into Ahmedabad half an hour after Mevani's 'arrest' to celebrate his much hyped birthday which he ruling BJP had christened as 'Sewa Diwas'.
It's my birthday - arrest them!
The preventive detention of Mevani, as well as the Patel agitation leaders on the eve of the PM's birthday, follows close at the heels of BJP's embarrassments last week when the party's national president Amit Shah was booed at a rally in Surat, designed to reconnect with the aggrieved Patels in the state.
Plastic chairs at the venue were thrown by the Patel youths towards the huge stage which was, however, barricaded with a wire mesh fencing in anticipation of such an eventuality. As a result of this 'flying chairs' episode at Surat, the chairs were tied with one another at a function for Chief Minister Vijay Rupani in Saurashtra three days later.
Big plans
Regardless of all the negative publicity in the PM's home state, the BJP has grand plans to make Modi's birthday as memorable as possible.
Modi has already started his day by meeting his mother and CJI TS Takur. He has also been very attentive on Twitter thanking people for their wishes as he shared some photographs.
मां की ममता, मां का आशीर्वाद जीवन जीने की जड़ी-बूटी होता है। pic.twitter.com/JeEnDrVevU

— Narendra Modi (@narendramodi) September 17, 2016
Met CJI Shri Thakur. I thank him for his kind wishes. pic.twitter.com/1ElNIgoP1m

— Narendra Modi (@narendramodi) September 17, 2016
Since Modi turns 67, the state BJP has lined up 67 different events, including erecting a 67-feet cut-out of the Prime Minister at Limkheda where he will be addressing a tribal rally in the afternoon.
Some BJP members have begun a 67-hour non-stop recitation of the Mahamrityunjay mantra at the Mahadev temple in Limkheda while another group of party workers are reciting the Hanuman Chalisa for 67 hours to mark Modi's birthday.
The BJP would also utilise the Prime Minister's event at Navsari to set three new world records. The distribution of nearly 17,000 special kits to 11,223 differently-abled people will be accompanied by a new record of forming an image or logo by the highest number of wheelchair-bound people.
The previous record is on this was set in the US where 346 people in wheelchairs had formed a logo in 2010.
At the PM's event in Navsari, as many as 1,000 wheelchair-bound people will be forming a logo to set a new world record.
Another record which is set to be broken as the PM turns 67 is providing hearing aids to 1,000 hearing-impaired persons at one place and time.
The third world record BJP state cadets have set their eyes on is the simultaneous lighting of 1,500 oil lamps at a single location, to be endorsed by officials from the Guinness World Records.
Edited by Jhinuk Sen
Also read: Birthday special: Here are some of PM Narendra Modi's biggest achievements
Also read: Jignesh Mevani resigns from AAP. Wants BJP to suffer for Dalit atrocities
Also read: Dalits vs BJP: Meet the men who made Gujarat's Una march possible