Gujarat polls: In Mandvi, it is Congress' Shaktisinh Gohil vs Gautam Adani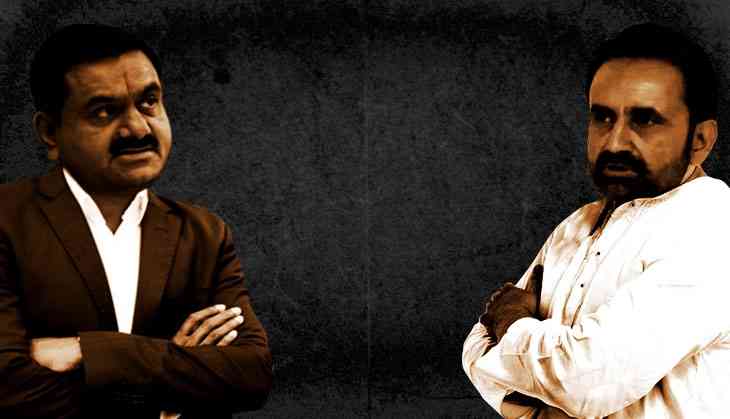 Congress leader Shaktisinh Gohil comes from an interesting lineage. He is the scion of the royal family of Limbda in Saurashtra, whose founder Hanubha Gohil was killed while fighting rival Rajput principalities in the region. Gohil's grandfather Ranjitsinghji Gohil was part of the Arz-i-Hukumat movement, an economic boycott movement aimed at the overthrow of the Nawab of Junagadh.
Nawabs and principalities no longer exist but Gohil appears to have started a battle of his own. He is taking on one of India's most powerful corporations in its backyard. A sitting MLA from Abdasa in Kachchh, Gohil has decided to shift to the neighbouring Mandvi constituency. The constituency is home to India's largest private port Mundra, the crown jewel of Gautam Adani's business empire. Given Adani's proximity to Prime Minister Narendra Modi, this is one of the VIP battles in the upcoming Assembly elections.
The seat
Gohil had lost in the 2012 Assembly elections from his seat Bhavnagar Rural in Saurashtra. In 2014, a bypoll was necessitated after the sitting MLA in Abdasa in the extreme north-western end of Gujarat, defected to the BJP. Gohil took on the defecting MLA Chhabilbhai Patel and defeated him with a narrow margin of 764 votes.
Gohil's calculation is that by shifting to Mandvi, he can help the Congress do well in the entire Kachchh region. Kachchh has been a BJP stronghold since before Modi and the Congress has performed poorly here except in the 2002 elections largely because of the BJP government's inept relief work following the 2001 Bhuj earthquake.
In 2012, the Congress won just one seat in Kachchh against the BJP's five but its vote share in the district was just 5% below the BJP's. Congress feels that it can give the additional push in the area to cover this difference and Gohil's presence in Mandvi is part of the plan.
Mandvi's demographic profile isn't very different from Abdasa, with Muslim forming 20% of the population and Kshatriyas also present in strong numbers.
However, it is a tougher seat than Abdasa because of its history and Adani's influence in the area. Interestingly, sitting MLA Tarachand Chheda owns Adani shares work Rs 5.5 lakh rupees, according to his 2012 election affidavit.
Mandvi used to be the stronghold of former BJP chief minister Suresh Mehta. Mehta won from here in 1975 as a Jana Sangh candidate. He lost in 1980 but won four subsequent elections. He lost again in 2002 to Chhabilbhai Patel mainly due to the anger against the BJP for ineffective relief work after the 2001 earthquake.
Mehta always had reservations about Modi and quit the BJP in 2007 saying that "the entire party had surrendered to one person". He joined the Gujarat Parivartan Party but quit as he opposed its merger with BJP in 2014. Mehta remains one of Modi's most vocal critics in Gujarat.
Besides their antipathy to Modi, Mehta and Gohil have another thing in common: their consistent attacks on Gautam Adani and his links with Modi.
Adani's Mundra
The sidelining of BJP stalwart Suresh Mehta in Mandvi's political landscape after 2002 coincided with the rapid rise of the Adani Group in the area. In 2003, Adani's Mundra Special Economic Zone (SEZ) was incorporated and it became India's first multi-product, port-based SEZ.
Mehta has accused Modi of giving away Mundra port to Gautam Adani.
Adani changed the face of Mundra. The old harbour is now virtually non-existent. Adani's expansion in the area is said to have taken away the livelihoods of several fishermen and salt pan workers.
In 2013, over 3000 people from around 10 villages surrounding Mundra - fisherfolk, farmers and salt pan workers - marched from Bhadreshwar to Bhuj protesting against Adani's projects and Tata's power plant in Mundra.
Gohil's allegations
During his stint as Gujarat's Leader of Opposition from 2008 to 2012, Gohil had accused Modi of giving favours to Adani, particularly in the Mundra area.
He alleged that that 3,15,49,000 square metre of land around Shekhadia village in Mundra taluka of Kachchh was sold to Adani at the rate of Rs 8 per square metre and the company later resold it at several hundred rupees per square metre.
He said that the Gujarat government, which speaks about the holy cow, gave away even gochar land – land meant for grazing cows – to its favourite industrialists.
Both Gohil and Mehta have also accused the Gujarat State Petroleum Corporation of giving benefits to Adani. For instance, Gohil says that GSPC set up its Liquid Natural Gas Terminal at Mundra to benefit Adani even though it was much more viable to establish it at Pipavav in Saurashtra where it was building a gas-based plant.
The main issue that lies at the root of Gohil and Mehta's criticism of Modi is land. Kachchh is a sparsely populated region with large a coastline and rich mineral deposits. Adani was an early mover in tapping the resources in the area, a process that was allegedly facilitated by the BJP government.
It isn't just Adani. In another case, Mehta alleges that by the direct intervention of then CM Modi and his revenue minister Anandiben Patel, procedures were violated in the sale and purchase of land by a Mumbai-based company Indigold Refineries.
Gohil's major pitch during his campaign will be that the Gujarat government gives nothing to Dalits, Adivasis, farmers and labourers but hands out land at throwaway prices to its favourite industrialists. In his opposition to Modi and Adani, he is, in effect, claiming Suresh Mehta's legacy as well.
The battle in Mandvi isn't just an electoral contest between Gohil and BJP candidate Virendrasinh Jadeja. It's a battle over the Gujarat Model itself.