Fresh headache for Rupani as Dalits plan to intensify land rights agitation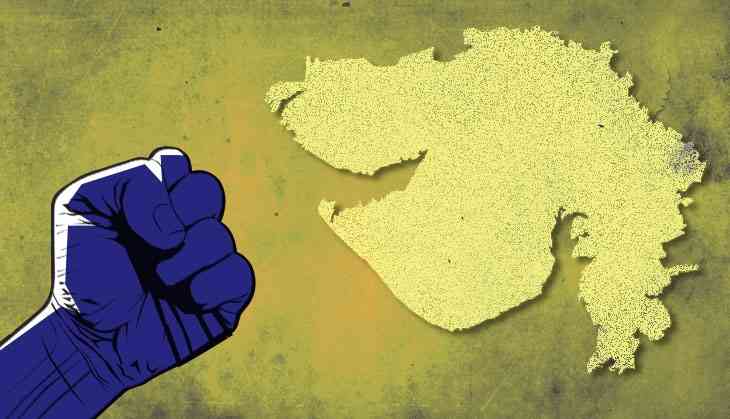 (Arya Sharma / Catch News)
The Vijay Rupani-led Bharatiya Janata Party (BJP) government in Gujarat is likely to face another Dalit upsurge, with the community deciding to intensify its movement for land rights. Dalits, tribals and the poor in Gujarat are largely alienated from land and the state government is under scrutiny for lack of policy implementation.
A public meeting of representatives from various districts of Gujarat is been organised on 19 April at Dalit Shakti Kendra near Ahmedabad on the issue.
"The self-immolation of Bhanubhai Vankar in Patan was the manifestation of frustration that the marginalised sections of society has been going through after prolonged and unsuccessful struggle to establish their rights over land, especially Dalits," Dalit activist Martin Macwan said.
Due to illegal occupation, in many villages Dalits are yet to get possession of waste land that they were given by the government, activists alleged. Several government resolutions have underlined that despite instructions district revenue authorities are not serious about removing such encroachments.
The activists shared one such resolution from 5 October, 1990, according to which: "It has come to the notice of the state that the encroachments on the government land has been increasing with passing days. On asking for information on encroachment of such land by districts through GO letter of 8/4/1988, it has revealed that in many districts the more than 10% of land has been encroached upon.
"In four to five districts, such encroachment has been over 40% or more land. This is extremely painful which suggests that the local revenue authorities are not sensitive to their duty of protecting the government property and in some cases, they have been purposely overlooking such realities."
Other resolutions acknowledge the fact that while giving legal possession of land to members of the scheduled castes, revenue authorities do not care to check whether or not such allotted land is free from encroachment.
Macwan said there were many cases of the poor losing part of their land or not being able to locate their allotment and blamed new GPRS-based technoloy, which has replaced traditional manual land surveys.
Dalit activists pointed out that under the Scheduled Caste and Scheduled Tribe (Prevention of Atrocities) Act, in grievous cases (murder, forced migration etc) victims are to be given agricultural land; but the policy has not been implemented. There are increasing incidents of burial land being allotted to Dalits.
Most complaints relate to local authorities alienating Dalits from their land on general observation for violations of grant conditions known as 'Sharatbhang'. Macwan disclosed that even when the state has not given the actual possession of the land, authorities take away the same land under the rule that the land given for the purpose has been violated.
It is being pointed out that such issues faced by the marginalised have never been collated and addressed. Individuals trying to protect their land against well-organised campaign of the powerful elements to dispossess them ends only in despair. Corruption is another obstacle for the poor to protect the land.
Activists claimed that a third of the atrocities on Dalits and tribals can be traced back to land. Legal cases have been awaiting disposal even after three decades and more. Applications by poor to get government waste land for agriculture in accordance with the state policy are addressed through holding 'Land Kacheri' (revenue courts).
"This has not happened for many years in the state. In rural areas especially, there is enormous problem of getting housing plots but the same cannot be addresses as the state has failed to allocate land for housing even when it has land but such land is under encroachment. This process too has to happen in Land Kacheri," Macwan said.
The participants coming for the proposed public meeting understand that the tension around the land issue is the result of non-implementation of the state policy. They believe that while the state becomes a mute spectator to massive encroachment of government land, the tension is intense between various sections of the society.
The activists have chalked out demands. They want the government to not dispossess them further for Sharatbhang until all pending alienation cases are resolved. They also seek that the state set up exclusive courts to deal with the land issue in order to resolve them in a time-bound manner. There is a need for the state to declare a time table of holding Land Kacheris to address the issue of granting land to the landless and allocate land for housing.
It will be demanded that the state must hand over possession of land to tribal community and settle all disputes under the Forest Act in accordance with the agreed state policy. In addition to this, it must give agricultural land to victims from Scheduled Castes and Scheduled Tribes of grievous atrocities in accordance with the law.
The Rupani government will have to tread a cautious path in dealing with the issue as it cannot afford to alienate both Dalits and tribals in the run-up to the 2019 Lok Sabha polls. Together they account for more than 20 per cent of the Gujarat electorate.