Four reasons why Modi's speech created new record of incoherence and impropriety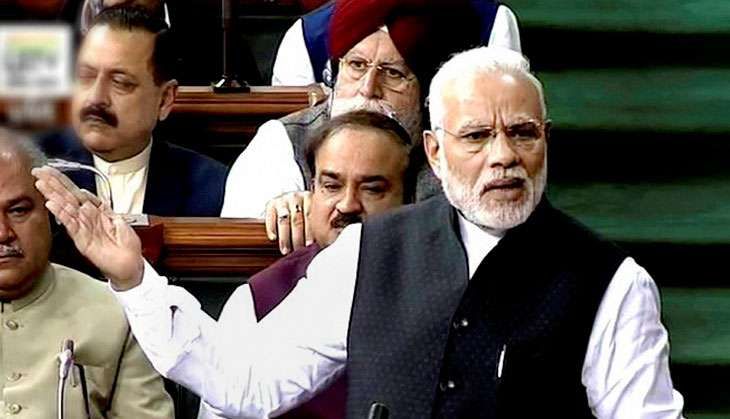 Have you ever noticed how statements from some people elicit loud laughs among a select gang of friends but evoke no response from people outside that circle?
Prime Minister Narendra Modi was in that kind of a moment on Tuesday in the Lok Sabha as he presented the government's reply on the motion of thanks to the President for his address.
Modi chose to defend the government by mocking a natural disaster and launching personal attacks on Opposition leaders, egged on by giggles and frequent thumping of desks by only the treasury benches.
Mocking a tragedy
The PM began with what looked like a message of regret over the earthquake that hit north India last evening. But after just a line of regret, Modi clarified that the reference to the earthquake was a ploy to hit out at Congress Vice President Rahul Gandhi, blaming him for the quake through a very twisted interpretation.
Modi said, "Aakhir bhookamp aa hi gaya. Mai soch raha tha ki bhookamp kaise aya. Dhamki toh bohot pehle suni thi. Koi toh karan hoga ki dharti maa itni rooth gai hogi? (Finally the earthquake struck. I was thinking how did the earthquake occur. I had heard a threat about it long back. There must have been some reason because of which Mother Earth got so upset?)."
The reference was to Gandhi's statement from the last Parliament session that if he will speak, it will trigger an earthquake.
Fair enough for one politician to respond to another, but should it happen at the cost of a natural disaster? That too, a disaster that brings back memories of a four-year-old monumental tragedy that claimed thousands of lives? This was a grave error on Modi's part.
Uttarakhand Chief Minister Harish Rawat responded to Modi's 'comparison' with a tweet -
उत्तराखंड में आए भूकम्प का मज़ाक़ उड़ाने के लिए मोदीजी को शर्म आनी चाहिए, घृणात्मक बयान

— Harish Rawat (@harishrawatcmuk) February 7, 2017
He went on to mock Rahul Gandhi over his latest statement that he gave during an electoral rally in Uttar Pradesh. Rahul had mocked a kindergarten-acronym that Modi had created during one of his own rallies.
In an earlier speech, Modi had dubbed BJP's rivals in UP as S.C.A.M. (Samajwadi. Congress. Akhilesh. Mayawati.) Rahul had responded, "S means Service for the poor. C means Courage. A means Ability. M means Modesty."
मेरे अनुसार SCAM का मतलब है:
Service गरीब लोगों की
Courage सच बोलने का
Ability वादे पूरे करने की
Modesty कि सब में कुछ न कुछ कमी होती है

— Office of RG (@OfficeOfRG) February 5, 2017
Modi took this ridiculous chain of ripostes forward in the Lok Sabha today, saying "Jab koi scam me bhi seva ka bhaav dekhta hai, namrata ka bhaav dekhta hai, toh sirf maa naheen dharti maa bhi dukhi ho jati hai. Tab jaakar bhookamp aata hai (When somebody sees service in a scam then that upsets Mother Earth, which leads to an earthquake)."
Turning Parliament into electoral arena
The PM's speech was meant to be a reply to the debate on the Presidential address. Opposition leaders had critiqued the speech, as they do every year, highlighting what they thought were its flaws and pressing for some amendments.
In replying to this debate, the government's job is to address specific points of criticism. It is entitled to further buttress its claims of work done, but what is the need for homilies on how nothing was done in the last 60 years?
ज्यादातर सरकारों ने जन समर्थन को पहचाना छोड़ दिया: पीएम @narendramodi pic.twitter.com/P13VAEkq5L

— BJP (@BJP4India) February 7, 2017
That kind of content is usually reserved for electoral rallies, while Parliamentary debates have focused subject areas.
Losing this focus leads one one to make grave errors, of words, of ideas and of judgement. In continuously harping upon the previous governments' shortcomings, Modi forgot that most of his government's accomplishments that he mentioned were built up on mechanisms and concepts put in place by previous governments. This has also exposed the Modi's government's serious crisis of new ideas.
Modi said, "No matter what I say you claim 'We started this'. I have decided to enter your playground to show just how you implement policy", and then went on to say that Congress created the anti-benami law in the 1980s and he has merely notified it. There were loads of references to Aadhar and how his government was using to fine-tune so many policy areas. Did he forget that Aadhar as an idea was brought in by his predecessor government?
Personal attacks
Apart from Rahul Gandhi, Modi also hit out at several other opposition leaders, making remarks of a personal nature. He told Trinamool Congress's Kalyan Banerjee, "Kalyan ji, aapka CR theek ho raha hai, aapka kalyan hoga. Kalyan ji, your CR is improving, you will receive benefits)."
That essentially amounted to telling Banerjee that he shouldn't only think about his party high command's watch over him.
Modi told Leader of the Congress party in the house, Mallikarjun Kharge - "We were not raised as dogs", in response to the latter's comments delivered a few days day earlier. Kharge had told the BJP, "Gandhi ji sacrificed his life for the country; Indira ji too sacrificed her life. Who came from your house? Not a single dog came from your family."
The PM also singled out AAP MP Bhagwant Mann, mocking him over rumors that he is an alcoholic. Modi said, "Charvak ne kaha tha ki jab tak jiyo, ghee piyo. Bhai Bhagwant Mann hote toh kuchh aur peene ki baat karte (The sage Charvak had said that as long as one was alive, one should drink ghee. If it was left to Bhagwant Mann, he would have talked about drinking something else.)"
Delusional over demonetisation
The other big highlight of Modi's speech was a clear message from him that he was delusional about demonetisation, that he will simply not admit that it was a mistake.
The Economic Survey as well as the Union Budget have several hints that essentially admit the damaging impact of demonetisation, but Modi will have none of it. He defended demonetisation, saying he chose the right time to implement it because the post-Diwali period was a time of maximum business activity and the economy was strong enough to bear a shock.
Modi claimed credit for attacking corruption through demonetisation, saying that the last government was continuously asked 'Kitna gaya?' while he is asked 'Kitna aaya?'
He defended the many rule-changes to demonetisation, saying the previous government made 1,035 changes to MNREGA for people's good. He also bragged about demonetisation as well as the 'surgical strikes', saying that while people ask him why was demonetisation was done in such secrecy, no one asks that question about the surgical strikes.
Modi is well-known for vicious political attacks as well as factual fallacies in his speeches, but this one will surely go down in Parliamentary history as a special one for its lack of logic and propriety.
Edited by Jhinuk Sen