'Economy is an MMD – Modi Made Disaster': Rahul Gandhi attacks PM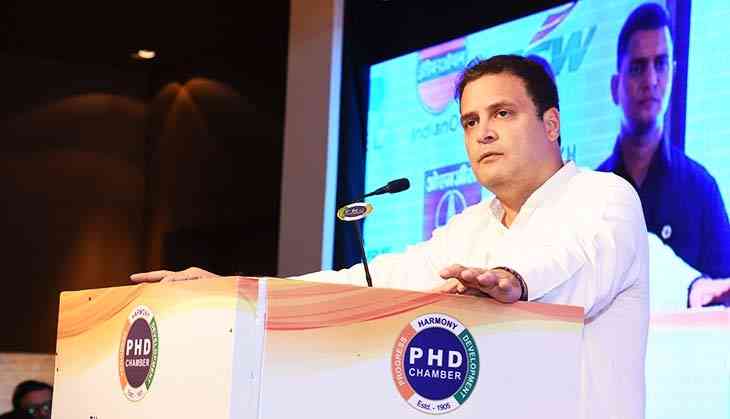 In a no holds barred attack, Congress vice-president Rahul Gandhi lambasted Prime Minister Narendra Modi over his economic policies which according to him have crippled India's growth. Speaking at the annual session of the PHD Chamber of Commerce and Industry, Gandhi said that Small and Medium Enterprises (SMEs) have lost trust in the government, which he said was absolutely convinced that every single person in India is a thief.
Gandhi claimed that Modi and his government have killed the economy by firing a double tap at its heart through demonetisation and a badly conceptualised and implemented Goods and Services Tax (GST). "We are staring at a disaster. I am not talking of technology making jobs redundant as is happening in the West. This is a pure man-made disaster or in Modi ji's terminology a MMD -- Modi Made Disaster," he said.
Several reports in the recent past have highlighted how the small and medium industries have bled significantly due to the twin blows of demonetisation and GST. Sensing this anger among the business community against the ruling dispensation, the Congress vice-president made an effort to reach out to them. And judging by the response of those present, he appears to have succeeded.
In fact, Gandhi has been using the same pitch in Gujarat, which is a major hub of small and medium enterprises and have suffered significant losses in the last two years. And for the first time in the last two decades, Congress is being seen as a worthy opponent in the upcoming polls. This is largely because of its successful campaign against the economic policies of the government. This rising anger amongst the business community was clearly visible during the PHD's annual session where every attack by Rahul on the prime minister was greeted with a loud applause.
Yet again criticising Modi's decision to ban Rs 500 and Rs 1000 notes in circulation, the Amethi MP said, "In a couple of weeks from now we will observe the death anniversary of the 500 and thousand rupee note. November the 8 is the barsi of 'notebandi' – when Shri Narendra Modi personally wiped out 86% of the currency in circulation overnight. It was a move, taken without thought, without consultation or concern for its consequences."
He went on to add how the Prime Minister failed to grasp a basic concept of the Indian economy that "all cash is not black and all black is not cash". "Without understanding this basic concept, the Prime Minister used his vast powers to unleash terror on the citizens of India. To make millions of Indian citizens stand in queues for over two months, desperately running from one ATM to another, many dying in the process, millions losing jobs and livelihood – to do all that you surely need someone with a big chest, but a very small heart."
He pointed out how the government is not ready to listen to the pain of its own people and this has created a trust deficit between the two. Calling GST flawed in structure and wrecked with moth eaten holes, he added how the businesses are being forced to incur massive transaction costs that are destroying them.
When asked by someone in the audience as to why Congress did not fight for a simpler GST, Gandhi said that his party tried everything to warn the government but none of their suggestions were entertained. "We sent Chidambaramji and other senior leaders to Arun Jaitley to tell them that they are making a mistake and how it was not a BJP vs Congress thing. But, they said mind your own business," he added.
Taking digs at Union Finance Minister Arun Jaitley, Gandhi claimed that while small and medium businesses are screaming in pain, Jaitley has the nerve to go on TV every other day and tell people that things are just fine.
"The government refuses to listen, everybody is shouting, every other day you see Mr Jaitley saying –everything is OK and he pulls out a graph and shows us that after 2019 things will become normal again," said Gandhi which was received with giggle from the audience.
While referring to growing joblessness across the country, he added how the government is creating a massive army of unemployed youth which he believes was a toxic and dangerous trend. He said, "Instead of admitting they cannot and are not providing jobs, they are riling communities against each other in a bloody rage."
Highlighting the plight of SMEs, Gandhi claimed how these businesses form the backbone of the country and yet get very little support from the government which gives all its attention to a select few big business houses. "They (SMEs) account for 40% of India's economic output and half of India's exports. More importantly, they account for 80% of all non-agriculture employment. Yet all SMEs combined get as much credit from banks as the ten largest businesses. Even though this money generates 30 times more employment," he pointed out.
Speaking on the government's recent bank recapitalisation announcement, the Congress vice president said that it targets only India's big corporates while throwing crumbs at MSMEs. "Imagine how much employment we could create if we actually made capital available to you in the same way we do for biggest companies in the country."
Further, he accused the government of disrespecting SMEs who according to him are the government's biggest weapon in job creation. "Why does the government disrespect them and treat them like thieves? They must stop painting you as evil and must seek your cooperation in rebooting the economy. Startup India is welcome for the economy, but it cannot be accompanied by Shut Up India in society."
The Congress leader promised to India Inc., particularly the SME segment, that when Congress would comes back to power, it would make India's MSME segment an important pillar and give it sufficient space in its economic policies.