Don't read too much into Farooq Abdullah's 'secessionist' utterances. He just wants votes
Catch Team
| Updated on: 7 December 2016, 21:35 IST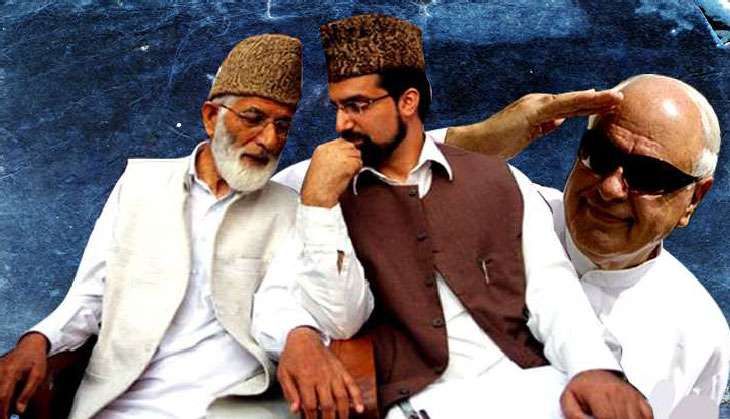 Farooq Abdullah returned to Kashmir's political scene over two months into the current unrest but true to his reputation, he has already generated a lot of noise even though he may not have catapulted his National Conference back into the political reckoning.
Although his campaign has not attracted many people, he has forced the media to take notice through controversial statements, one of which was telling New Delhi bluntly that Pakistan Occupied Kashmir was "not its father's property".
Also Read: PoK will remain in Pakistan and J&K will remain in India, says Farooq Abdullah
On 5 December, on the occasion of the 111th death anniversary of his father, the legendary Sheikh Muhammad Abdullah, a charged up Farooq pushed the envelope a bit further, telling the Hurriyat he was with them in their struggle.
"I ask these Hurriyat leaders to unite. We are standing by your side at this hour. Don't think of us as your adversaries. We are not your adversaries," he told a gathering near his father's mausoleum in Srinagar. "Move ahead, we are with you until you keep treading the right path. And until you guide this nation on the right path."
He also exhorted his party's workers to support the Hurriyat-led movement. "I ask the workers of National Conference not to stay out of this (separatist) movement. I warn you. We are a part of this movement," he said, his voice suffused with emotion. "We have always fought for the Kashmir cause. We have gone to jail."
Once again taking on New Delhi, he said the Indian state's oppression won't crush Kashmiris' struggle. "They can't crush you. This fire that has been lit in Kashmir can't be doused until India and Pakistan do justice to us," Farooq said, theatrically. "They have to do justice to the people of Jammu, Kashmir and Ladakh. Until that happens, this fire can't be put out. No matter, how much effort they make. More they try to douse it, more will it spread."
Farooq's utterance may be construed as a radical departure from mainstream political consensus by outsiders, but to Kashmiris, it is a familiar game plan. That's why few people have leapt to the bait.
"This is in keeping with the age-old tradition of Kashmiri mainstream politicians: separatist in Srinagar, secular in Jammu and patriot in New Delhi," says Naseer Ahmad, a local columnist. "This no longer works politically for them. But they keep going back to the trick."
Also Read: Hurriyat leaders ask J&K MLAs to 'introspect', abandon Mehbooba
Farooq's return to active politics in the state is a calculated move: an attempt to wade into the space vacated by the ruling PDP, rendered a political pariah for its role in the killings during the current turmoil. This Farooq has tried to do by straddling the valley's mainstream-separatist divide much like the PDP was wont to do and by riding the crest of the prevailing heightened separatist sentiment by taking on New Delhi and obliquely associating the National Conference with the Hurriyat.
Only Farooq could accomplish this tough assignment because of his fluency in Kashmiri language, something his son Omar Abdullah lacks, and because of his knack to connect with the masses, a skill Omar has yet to master.
Another key reason for Farooq's return is the upcoming parliamentary bypolls on two seats - Anantnag and Srinagar - vacated by the PDP, the former by Chief Minister Mehbooba Mufti and the latter by Tariq Hameed Karra, who resigned recently in protest against the excesses committed by government forces in response to the unrest.
Farooq is likely to be the National Conference candidate from Srinagar, where he was resoundingly defeated by Karra in the last election. Soon afterwards, Farooq disappeared from Kashmir's political scene - in between he went to London for a kidney transplant - only to return now to fight his way back into favour. If his current politics is anything to go by, he is leaving nothing to chance, even appealing to the extreme secessionist sentiment to rid his party of its pro-New Delhi image, a political liability in Kashmir.
In a recent meeting at the NC headquarters, Farooq, 79, is learnt to have told his workers that the upcoming election could be his last. "It might be my last election," he told the NC workers. "You ought to remember this when you vote in April."
However, unlike the last time, the electoral odds are in favour of Farooq. His invocation of the secessionist sentiment may not carry conviction in Kashmir but the drastic dent in the PDP's credibility will certainly help his cause. Still, the victory of a mainstream politician may once again be due less to the public faith in his politics and more because he is the default option in a contest where the competitor has run out of favour.
Also Read: Understanding Kashmir unrest through Hurriyat's protest calendars