Did Goa CM Parsekar lie about his wealth in election affidavit?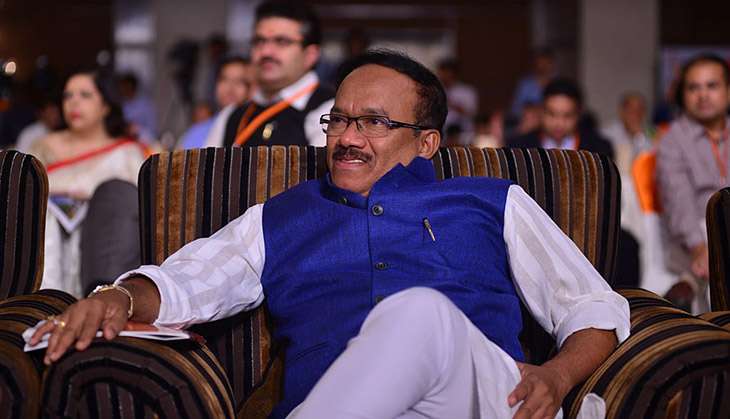 In his submissions before the Election Commission of India for contesting the Goa Assembly elections on 4 February, Chief Minister Laxmikant Parsekar has declared that he owns assets worth Rs 8.98 crore.
This is Rs 1.76 crore lower than his declared worth in 2012, making him the only minister in Goa to have lost money while in office. It also fits well with his self-professed image as the man-next-door, a schoolteacher who made it big in the world of politics.
But is that really the truth?
A closer look at Parsekar's assets, particularly those in real estate, throws up several questions.
What Parsekar owns
Parsekar owns three residential properties, one commercial property and nearly 54 acres of agricultural land in Arambol, his native village, which is also a major tourist destination in North Goa. He inherited all these properties and did not sell them between 2012 and 2017.
However, the value of commercial and residential properties that he has declared for the 2017 polls is the same as his 2012 declaration.
- Residential bungalow on Survey no. 95/29 . 500 square metre plot (i.e. 5,380 square feet) with a built up area of 160 square metres (or 1,722 sq ft). 2012 value: Rs 20.00 lakhs or Rs 4,000 per square metre (taking only the land value).
- Survey no. 300/1: 36,670 square feet plot with a 1,721 sq ft bungalow. 2012 value: Rs 25.00 lakh, or Rs 733 per sq metre (land rate).
- Survey 274/1: 24,629 sq ft property with a 2,152 sq ft bungalow. 2012 value: Rs 40 lakh (Land rate Rs 1,747 per square metre).
- Commercial property: a saw mill spread over 180 square metres, also inherited. The declared value was Rs 40 lakh or Rs 22,222 per square metre in 2012.
What this shows
- The rates per square metre of all the properties are inconsistent with each other, despite being in the same village.
- While the residential and commercial land values haven't increased according to his declaration, Parsekar has declared that the value of his 24 agricultural properties has increased a uniform 10% in five years, besides a 10,000 square-metre farm, whose value has jumped nearly 40%.
If the worth of the agricultural land - which, by state law, cannot be put to any other use - can rise at least 10% over five years, can the value of residential and commercial property - which can tap into the tourism potential of the region - be the same?
Four reasons why this doesn't seem right
1. Value of land declared by other candidates is much higher: Shridhar Manjrekar, the candidate for the Maharashtrawadi Gomantak Party from Mandrem, has declared a residential property in his wife's name at Mandrem village, another beach south of Arambol. Though it is not as popular and draws lesser crowds, the current market value declared by Manjrekar for a 220 square metre bungalow is Rs 16.13 lakh, or Rs 7,334 per square metre, at least four times the highest land value Parsekar has declared.
2. The real estate prices on the ground are far higher: This correspondent visited real estate agents in the area to find out what the current land rates were. To rule out any bias in reporting the prices, the queries were framed to be on behalf of a fictitious buyer in Pune, and not for a news report.
No land in Arambol was available for under Rs 1,500 per square metre. The highest rate quoted was nearly Rs 17,000 per square metre for a 2,200 square metre plot, not far from Parsekar's property at Survey no. 274/1, which he has declared to be worth Rs 1,747 per sq m. In fact, Survey no. 275/0, the property adjacent to Parsekar's, is on sale for Rs 2,000 per sq m.
Unlike Parsekar's property, which has a two-storeyed house, this property is a barren sloping land covered in wild vegetation. Its rate is also lower because the property is a 3 lakh square metre land parcel. According to the agent, Parsekar's property was worth at least Rs 2,500 per sq m.
3. Goa govt's official land rates are higher: In January 2013, months after the BJP government came to power, the Goa government drastically increased the notified rates for real estate in Goa. In Arambol village, the rate was increased from Rs 400 per square metre to Rs 2,500 per sq m, a more than six-fold jump. Parsekar's properties are valued below this base value. The government-notified base value is 10-20% lower for properties larger than 1000 sq m, but Parsekar's declared values are lower than these too.
4. The entire Pernem taluka, in which Arambol falls, has witnessed a real estate boom: Demand for land surged after the BJP government announced two large developments in the taluka: an electronic city in Tuem, and an international airport at Mopa.
According to locals, real estate prices have nearly doubled in Pernem over the last three years since the projects were announced.
"I had bought land in 2011 for Rs 10 lakh. I sold it last year for Rs 40 lakh. Everyone's making a windfall here. There's no way that Parsekar's property is worth the same as in 2012," said Dhananjay Pandit, a resident of Pernem.
The foundation stone for both the electronic city and the airport were laid by PM Narendra Modi in November 2016. Both the projects have been pushed by Parsekar and the BJP government in the state over the last few years.
For the airport, the government's deal with airport developer GMR is based on a land rate of Rs 8,000 per square metre, and includes permission to develop 232 acres of commercial property.
Is Parsekar doing something wrong?
Declaring property value below the actual market rate might be an unfair practice, but there are no provisions in law to penalise this, says Bhaskar Assoldekar, the Goa-in charge of the Association for Democratic Reforms.
However, this time, many candidates have made such declarations.
"Ideally, the Returning Officers are supposed to flag these when they are scrutinising the affidavits. They get a full day for this, and each officer has a couple of applications to look into; it shouldn't take time," Assoldekar said, adding that usually only incomplete details were flagged.
"The best we can do is to educate voters about this," he said.
An e-mail sent to Parsekar has not elicited a response.
Edited by Shreyas Sharma