A day after govt announces its ambitious plan, Congress gives Jaitley an economics lesson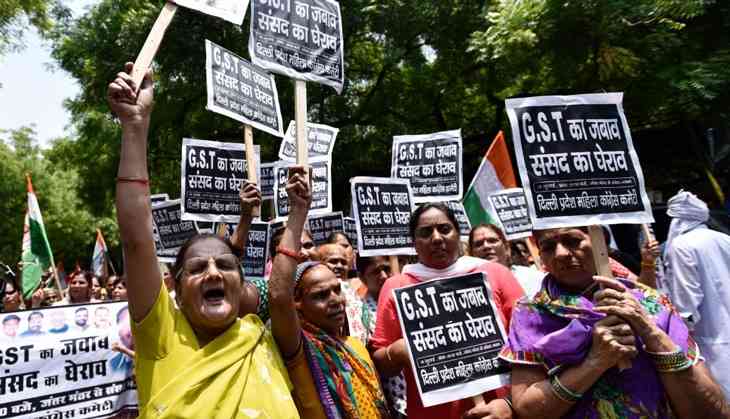 ( Burhaan Kinu/Hindustan Times via Getty Images)
A day after Finance Minister Arun Jaitley and seven top finance ministry officials unveiled a Rs 9 lakh crore support to boost the economy, the Congress launched an offensive against the government.
It claims that the announcements made on Tuesday are misleading and that the government still lacks a concrete plan to revive the Indian economy which is in dire straits.
"The government has accepted that India's economic growth is declining and they are finally taking urgent measures to address the situation. However, these measures are delusional as there is no capital. The country whose revenues are pegged at Rs 17 lakh crore, where will it get Rs 9 lakh crore?" asked former Union Commerce Minister Anand Sharma.
The senior Congress leader went on to add that the Narendra Modi-led government has failed the nation in the last 3.5 years and has put Indian economy in Intensive Care Unit. Yet again raising the issue of growing unemployment and how crores have lost jobs, Sharma said that the government has finally woken up from its slumber and publicity mode.
Attacking the government over his "ill-conceived" exercise of demonetisation and GST, Sharma added how it has led to distress in rural economy and informal sector, particularly the Medium and Small Enterprises that have reported 33% (3,70,00,000) job losses. "After first three months of note ban, three lakh jobs were lost in the organised sector," the former commerce minister said.
Taking digs at Jaitley, Sharma said that the finance minister is an educated man and that by making such claims he is maligning his image. Referring to the finance minister's claim that India is the world's fastest growing economy, Sharma said that he should refrain from making such ill-informed assertions that would stump people across the globe including World Bank, IMF, and other such organisations
"First, he said that the fundamentals of our economy are strong which is wrong and then he claimed that India is world's fastest growing economy which is incorrect and factually wrong. Why I say this is because India's GDP growth has been declining for the last six quarters which now stands at 5.7% while China's GDP growth is 6.9% and its economy is five times bigger than India," he said.
He then advised Jaitley to carefully measure his words before making such comments which might make the world question the intelligence of Indians. Earlier in the day, while referring to government's statement that the real GDP growth average is 7.5% in the last three years, Congress vice-president Rahul Gandhi took to Twitter with a funny take of the popular phrase from Star Wars and said, "Dear Mr. Jaitley, May the Farce be with you."