Bypoll results: BJP surges; Congress shrinks; TMC, AIADMK retain hold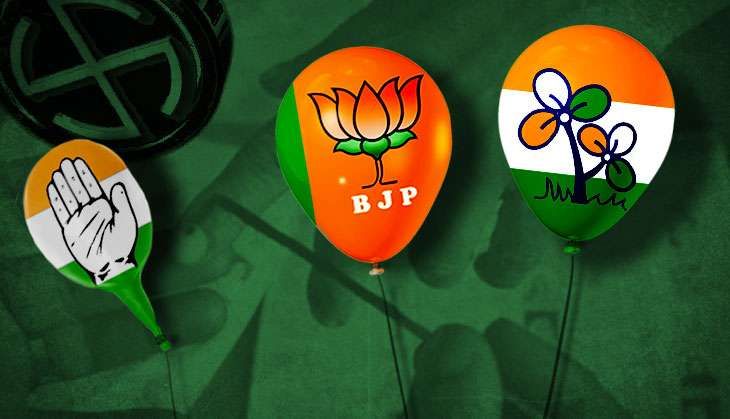 There is only one conclusion whichever way you look at the just declared bypoll results - the BJP is in a happy place. In the first round of polling after demonetisation, 14 seats were at stake - four parliamentary and 10 assembly - across seven states. Not only did the BJP keep its four seats, it wrested one from the Congress as well. And the party saw it footprint in the Northeast deepen.
The Congress emerged as the biggest loser, retaining only one of the three seats it held, losing a seat each to the BJP and the CPI(M). The AIADMK and the Trinamool Congress showed they remain the dominant forces in Tamil Nadu and West Bengal, respectively, six months after both retained power.
Also Read: Amma returns: decoding Jayalalithaa's historic win in Tamil Nadu
Keeping to this trend, the parties in power in all the seven states did well, without exception.
In the parliament, numerical equations remain unaltered as the BJP and the TMC regained their four seats - the former won Shahdol in Madhya Pradesh and Lakhimpur in Assam, and the latter Coochbehar and Tamluk in Bengal.
Here's the final tally.
It's hard to say whether the ongoing "currency crisis" played any role in the Lok Sabha bypolls because the equations haven't changed. Any message for the BJP, celebratory or of reproach, would have been clear only if the party had won an extra seat or lost either of the two it had.
Also Read: Cyclone Mamata: why Bengal brought her back with a bigger mandate
Still, the results may have an impact on the ongoing opposition protests in the parliament, not least because they are being led by the TMC and the party has clearly been emboldened by the bypoll results.
As for the assembly bypolls, the BJP will celebrate wresting a seat each in Assam and Arunachal Pradesh from the Congress. The twin victories have helped the party grow its presence in a region that it has long coveted - for political and ideological reasons. Indeed, exultation dripped from this tweet by Himanta Biswa Sarma, the BJP's chief strategist in the Northeast.
@BJP4India wrests 2 seats from @INCIndia. MansingRongpi in Assam's #Baithalangso & DesinguPul in Arunachal's #Hayuliang winhandsomely (2/4)

— Himanta Biswa Sarma (@himantabiswa) November 22, 2016
For the Congress, the only solace came from Puducherry, where "selected" Chief Minister V Narayansami validated his position by winning Nellithope assembly seat. The CPI(M) will take heart that it continues to hold sway in one of its last strongholds, Tripura.
Also Read: BJP's formula to win UP: play communal ball with SP