#ByeByeSmriti: Twitter loves Smriti Irani. Her exit, more so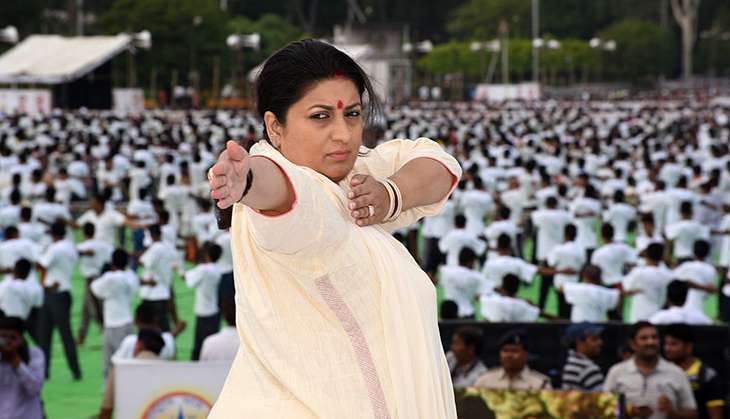 Smriti Irani\'s shunting out from the heavyweight HRD ministry to the low-profile textiles ministry was definitely the biggest highlight of the reshuffle in Prime Minister Narendra Modi\'s cabinet. Many media reports have given different explanations for the move, from a possible bigger role in Uttar Pradesh to a cut down to size. Whatever the reason, Irani has once again created huge buzz, especially on social media.
Twitter had a field day, with hashtag #ByeByeSmriti trending for hours. Most tweets with this hashtag mocked Irani\'s controversial tenure in the HRD ministry.
01
From hailing her removal as the best decision of the Modi government
#ByeByeSmriti some people saying this is the big reform Modi ji has done but why deform textile industry

— Amit Kumar (@amitkumarz) July 6, 2016
02
To welcoming this as good news for students
Students of India are rejoicing while People of UP are crying.😢😢 #ByeByeSmriti

— bhageerathi (@bhageeerathi) July 6, 2016
03
From mocking her over allegations of a saffron-ising agenda
Safronising clothes will be better then safronising education? #justasking #ByeByeSmriti

— Richard M. Marak (@richardmarak) July 6, 2016
04
To linking her new job with Modi's infamous self-monogrammed suit
Maybe we should expect more 10lakh suits with modi's name embroidered on it #ByeByeSmriti

— Stuart (@Stuart_pereira) July 6, 2016
05
From a clever pun on her new job and her destiny
@vinaydokania @smritiirani karma is a snitch #ByeByeSmriti

— sameer karve (@sameer2286) July 6, 2016
Javdekar to Smriti Irani:
No HRD feelings for you :)#ByeByeSmriti

— Divya Bhatia (@divya_bhatia07) July 6, 2016
06
To linking it with patriarchal attitudes, in a lighter vein
आज फिर एक बेटी से किताब छीन कर सिलाई मशीन थमा दी । #ByeByeSmriti pic.twitter.com/sRcWPtyI3I

— Sitaram Lamba (@sitaramlamba) July 6, 2016
07
From calling her the 'queen' of controversies,
विवादों की रानी उड़ गई..#ByeByeSmriti pic.twitter.com/oFvUmbUHiK

— The DeadMan (@AMuskeeter) July 6, 2016
08
To recalling the Telegraph newspaper's rather special coverage of her tenure
Aunty National to Spindrella - how Telegraph made life difficult for #ByeByeSmritihttps://t.co/8Qm2ZMhLES pic.twitter.com/QlhKsGF9qp

— NewsCrunch (@NewsCrunch1) July 6, 2016
09
From quips on the possible 'sanskritisation' of clothes under her
#ByeByeSmriti Chetan Chauhan & Smriti Irani handling fashion and textile respectively - get ready to get your clothes sanskriticized.

— MK Omer (@Omer_Khizer) July 6, 2016
#ByeByeSmriti
Aunty's new policy: Every female to wear saree ;) https://t.co/tnd2oCK16p

— ●Rahul Kataria●🇮🇳 (@ImRahulKataria) July 6, 2016
10
To forgiving the Modi government for the black money 'jumlas'
11
From mocking her alleged lack of educational qualifications
#ByeByeSmriti@AboliSadaf @ganesh_mpyc @vijay_kanojia @Mobiniyc @Radhika_Khera @siddaiyc pic.twitter.com/8UUEU0SjGm

— RG-Revolution Govt.. (@Shravangaikwad) July 6, 2016
12
To recalling her aversion to terms of 'endearment'
Among all this I am thinking whether the official mail informing her about the removal will have Dear Smriti or just Smriti #ByeByeSmriti

— Lazy Lekhak (@LazyLekhak) July 5, 2016
13
And finally, a warm send-off
#ByeByeSmriti 😭😭 pic.twitter.com/FHkpuKYvZx

— Patriot Paglu (@PagluPiggu) July 6, 2016