By not campaigning for his JD(U) in Gujarat, is Nitish Kumar trying to help BJP?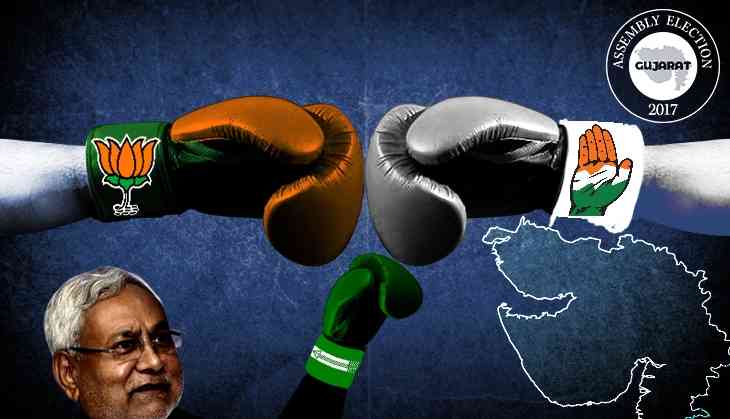 It does not matter for Janata Dal (United) that the average Gujarati voter might not know who Shyam Rajak is. For that matter, even names like RCP Singh, Lalan Singh and even KC Tyagi might not ring a resounding bell in the poll-bound state. However, the party wants to believe that they will be its star campaigners there.
Conspicuous by his absence on that list is JD(U)'s most recognisable contemporary face – Bihar Chief Minister Nitish Kumar.
Kumar is in the middle of his third stint as chief minister, has been a Union cabinet minister and, presently, is also the national president of his party. If that does not make one a star campaigner, what does?
The party is not likely to answer that question because it is not Kumar's star quotient that this list is a verdict of. What it really shows is the Bihar CM's precarious position in politics after re-joining the BJP-led NDA.
Kumar said earlier this month that the BJP, his alliance partner in Bihar, was in no "danger" of losing in the Gujarat Assembly polls. "The prime minister hails from there. The people will not vote against the party. I don't think there is any danger to the BJP there," he had said.
If that is indeed his belief, how does he explain his party's decision to contest on over 100 out of the total 182 seats in Gujarat? Many of these contests are likely to pit JD(U) against the BJP. What will the JD(U) do in such contests? If JD(U) was serious about winning them, there is little doubt it would have hesitated in getting Kumar to campaign.
His absence from campaigning in Gujarat has only one meaning – that JD(U) will be helping the BJP by acting as a vote-cutter. The state doesn't hold any greater significance than that for JD(U). Though the party has had a token presence in the state for long, its most prominent face there is now a rebel.
Chhotubhai is a six-time MLA from Jhagadiya constituency and is the lone JD(U) MLA in the state Assembly. In the 2012 polls, while Vasava bagged the only seat in the Assembly for JD(U), the party had contested on 65 seats. It polled a total of 1.83 lakh votes across the state and secured a vote share of 0.67%.
However, Vasava has now aligned himself with the Sharad Yadav-led faction of JD(U), has formed his own outfit and has also struck an alliance with the Congress party.
With this absence, brand JD(U) is as good as dead in Gujarat. Kumar's JD(U), in that light, appears to be fighting only to register its presence in the state and help BJP by splitting votes on seats where the latter is on a weak wicket.
There is another significance of Kumar keeping away from campaigning in Gujarat. Bihar's former deputy chief minister, Tejashwi Yadav, has said in a statement that Prime Minister Narendra Modi appears to have avenged the insults meted out to him by Kumar, when the latter was antagonistic towards him long ago.
In the 2009 Lok Sabha elections and the 2010 Bihar Assembly polls, Kumar had blocked Modi, the then Gujarat chief minister, from entering Bihar to campaign for the BJP. Tejashwi has said ever since Kumar dumped Congress and RJD in Bihar to re-join the NDA, Modi has been showing Kumar 'his place' by avenging his insults one by one.
Yadav also pointed out how Modi publicly turned down Kumar's request for grant of central status to Patna University last month.
Yadav's father, RJD supremo Lalu Prasad, had also taken a similar jibe at Kumar in September when the Gujarat government presented the Bihar government a cheque of Rs 5 crore for flood-relief. As the Bihar government accepted the money, Prasad recalled how Kumar had returned a similar cheque of Rs 5 crore for flood-relief from Modi, then Gujarat CM.