BJP leaves Sushma Swaraj to fend for herself against vicious trolls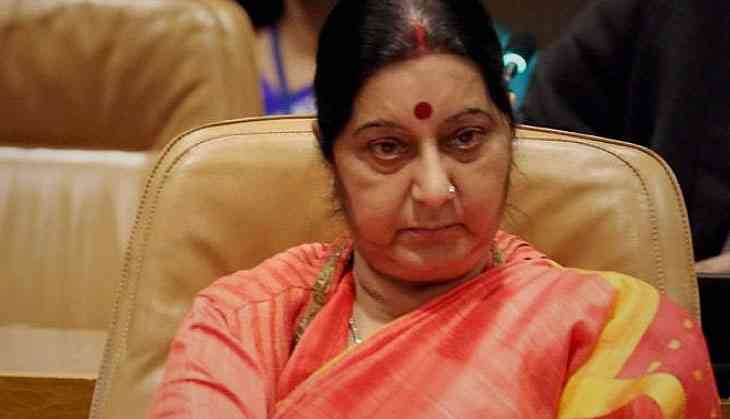 In a country where politicians are known for wielding enormous power, we have a Union minister of the stature of Sushma Swaraj who has not just fallen prey to serial online abuse and trolling by BJP supporters but has been rendered helpless by her own cabinet and party colleagues who have preferred to keep mum.

It seems the BJP has left the External Affairs Minister to fend for herself.

Even Swaraj's political opponents have come out in support against the vicious trolling by right-wingers, her party colleagues have maintained an eerie silence over the sexist and violent online hatred faced by Sushma. Even veterans like LK Advani and Murli Manohar Joshi have failed to speak up.

Otherwise prolific on Twitter, Prime Minister Narendra Modi is yet to speak a thing on the matter while his party chief Amit Shah has not found the issue big enough to merit a response.

Catch News' contacted several BJP spokespersons but failed to get a response from anyone. A senior BJP functionary claimed "ignorance" about the whole issue.

BJP IT cell head Amit Malviya too refused to comment.

The fact that none of the Modi government ministers deemed it prudent to come to the defence of the BJP's senior-most woman leader, reveals a lot about the mindset of the party which takes pride in its slogan of "Beti Bachao beti Padhao". The only comment came from Union Home Minister Rajnath Singh, who gave a feeble reaction to a journalist saying that what happened to Swaraj was "unfortunate".

Sushma was subjected to online abuse and accused of Muslim appeasement by right wing trolls after her ministry transferred Vikas Mishra a passport official for allegedly humiliating an interfaith couple.

From mocking her as "Visa Mata" to asking her husband Swaraj Kaushal to "beat her up" to "teach her not to do Muslim appeasement", the trolls, mostly BJP supporters, poured venom on social media against Sushma for helping the interfaith couple.

The constant trolling evoked an emotional response from Swaraj Kaushal who posted screenshot of a hateful tweet and said "your words have given us unbearable pain".

No data to display.

Sushma hit back at trolls with a Twitter poll, asking users whether they "approve such tweets".
Friends : I have liked some tweets. This is happening for the last few days. Do you approve of such tweets ? Please RT

— Sushma Swaraj (@SushmaSwaraj) June 30, 2018
She also 'liked' several of the hateful tweets seeking twitterati's response about them. Many of the trolls, some of whom followed by BJP leadership, have targeted Sushma's personal life including her health and kidney operation she had a year ago.
She is almost dead woman as she runs on only one kidney (borrowed from some one else ) and any time that can stop working .

— Capt Sarbjit Dhillon (@dhillonsarbjit2) June 22, 2018
THIS HARAM-KI-PAIDAISH VISA-MATA MUST BE REMOVED IMMEDIATELY FROM HER POST ! pic.twitter.com/6zpT3M8kGE

— Bharat1 (@Bharatvanshi211) June 22, 2018
Biased decision #ISupportVikasMishra shame on you mam...is it effect of your islamic kidney??

— Indra Bajpai (@bajpai_indra) June 22, 2018
@SushmaSwaraj you are doing injustice to honest officer, better if you would have not replaced your kidneys. #IsupportVikasMishra

— Youraj Gavate (@angry_boyss) June 21, 2018
Her poll got over 1,24,000 votes with a majority of them (57%) saying "No" but as much as 43 % or over 53,000 users did approve the vicious attack and abuse which itself reveals their mindset.
After the poll, Sushma said she was open to criticism but not in foul language.
In a democracy difference of opinion is but natural. Pls do criticise but not in foul language. Criticism in decent language is always more effective.

— Sushma Swaraj (@SushmaSwaraj) July 1, 2018
This is not the first time that either Modi or Shah have kept mum on an issue of significance. In fact it has been their wont to not speak on burning issues- be it the lynchings of Muslims and Dalits or the trolls celebrating the dastardly murder of Gauri Lankesh.
Despite severe backlash from national and in international media Modi refused to unfollow any of the trolls who had openly expressed happiness over Lankesh's death.
With attacks on women both in the virtual and real world rising, Modi and his BJP's stoic silence will only embolden the attackers.
Expressing outrage over the vicious trolling, former Jammu & Kashmir Chief Minister Mehbooba Mufti asked "If our own Minister of External Affairs is not spared, what hope is there for any other woman".