BJP committed to Ram temple; SP, BSP, Congress should clarify stand: BJP's Amit Shah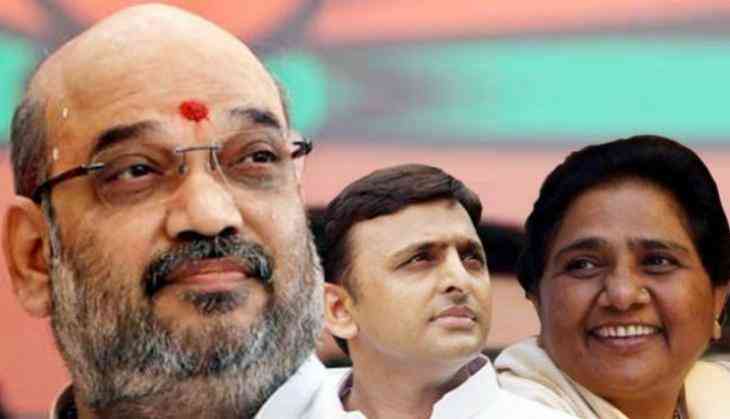 BJP president Amit Shah on Friday asserted that his party is committed to constructing the Ram temple in Ayodhya. He has asked Congress, Samajwadi Party (SP) and Bahujan Samaj Party (BSP) to clear their stand on the issue, which is currently sub judice.
Shah said at a booth level rally of party workers: "BJP is committed to making the Ram Temple at the same place in Ayodhya... As soon as the case of Ram temple came up, the Congress party said this should be done after 2019. Why? It is the oldest case in India. Why do you want to delay this case?
He added, "I want to ask Akhilesh Yadav, Mayawati and Rahul Gandhi, what's your stand on the Ram temple? Whether you agree or not, BJP will make sure that Ram temple is constructed at that place."
The Centre had on Tuesday approached the Supreme Court for permission to restore the "excess" land surrounding the disputed portion in Ayodhya to Ram Janambhoomi Nyas.
The government, in a petition, sought directions for releasing the 67 acres which it had acquired about two-and-a-half decades back, leaving untouched the 0.313 acres of disputed land.
The Ram Janmabhoomi-Babri Masjid dispute has been pending before the apex court for the last eight years. For a long time, parties in the case and various right-wing organisations have been asking for an early or day-to-day hearing in the matter.
Meanwhile, speaking at the rally, Shah said that "BJP does not function on basis of the dynasty but on democracy."
"When our government is formed, there is development. During 'Bua-Bhatija' (Mayawati and Akhilesh Yadav) reign, Purvanchal was going through menace of mosquitoes and mafia. After BJP government was formed mafia disappeared, encephalitis cases are going down."
Citing an example of the NRC draft in Assam, Shah further stated that "from Kashmir to Kanyakumari, Assam to Gujarat and Uttar Pradesh to Uttarakhand, BJP will remove all infiltrate if it comes back to power again in 2019.
-ANI