Bihar: Prashant Kishor appointed as National Vice-President of Nitish Kumar-led JDU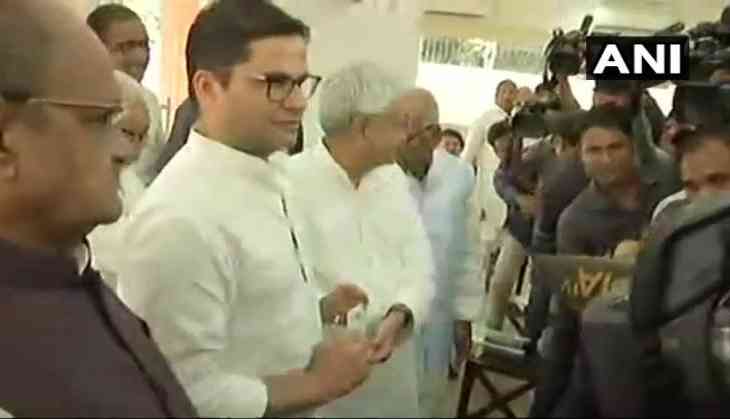 Former election strategist and member of Janta Dal United Prashant Kishor, has been appointed as the vice-president of JD(U) by the party supremo and chief minister Nitish Kumar.
Prashant became famous after he successfully launched election campaigns for PM Narendra Modi in 2014 Lok Sabha election, and then the Bihar election, where he organized his strategy for the grand-alliance led by JD(U), Lalu Prasad's RJD and Congress party.
"Excited to start my new journey from Bihar!" Kishor had tweeted after joining the JD(U).
Prashant Kishor is a resident of Buxar in Bihar and have been in limelight since 2014, after his consecutive election strategies which reaped successful results and even record-breaking for the ruling BJP.
Now, after an year, he has collaborated with Nitish Kumar and had joined the JD(U). Prashant Kishor might be contesting the Lok Sabha election of 2019 from his home district Buxar, where he has a large popularity.
"The Bharatiya Janata Party (BJP) is still in the lead," said elections strategist Prashant Kishor yesterday.
"Wish I knew the answer. The BJP is the party to defeat. They are still in lead position. I do not have a prediction to make," said Kishor, in an event in IIT-Delhi.
Kishor later on added that, "Approval ratings indicate people might not be as euphoric as they were in 2014 for BJP but they're still there. It doesn't matter who I think will win because at the end of the day, what the majority believes is right."
Election strategist Prashant Kishor, who joined JDU last month, has been appointed the National Vice-President of the party. (file pic) pic.twitter.com/lLGbckybzs

— ANI (@ANI) October 16, 2018
While talking about Rahul Gandhi, Kishor said its too early to write him off as he just took the presidentship of the party.
Also read: Assembly Election 2018: Ajit Jogi's Janta Congress ties up with Mayawati's BSP in the poll-bound