Bengal babus' dilemma: To listen to Modi or Mamata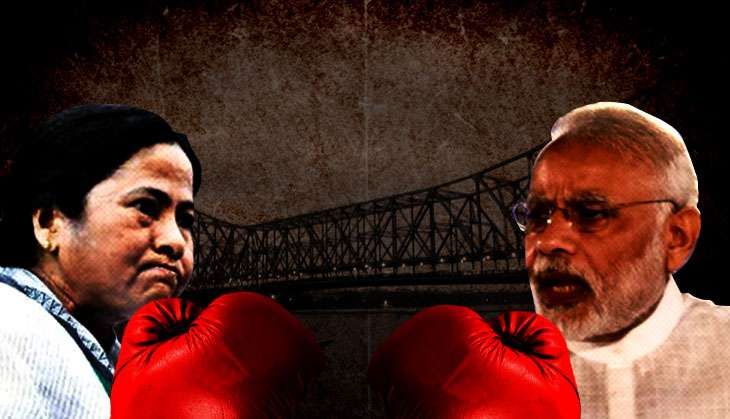 The West Bengal Civil Service (WBCS) officers are facing severe difficulties in completing their work on time after Chief Minister Mamata Banerjee directed all WBCS officers on Monday to not act on the Centre's instructions without informing her government first, making several officers uneasy.
It's impossible to consult senior officials daily on central directions, some officers pointed out. Administrative work will get delayed if they have to take permission from the state head quarter for every task related to the Center's instructions.
Work related to Mahatma Gandhi National Rural Employment Guarantee Act is generally looked after by the district administration and they gave a report to the state government at the end of every month.
A senior WBCS officer, who did not want to be quoted, said: "We do not know how we will work as the instruction from the state government has made us think how we can implement things on time."
Loyalties
Banerjee on Monday said WBCS officers should keep it in mind that they work for the state and they should not take any decision on their own without consulting the state government.
"You should not implement things on your own. You should inform us. It is to be remembered that you work for the state government," she said at a meeting of the WBCS Executive Officers Association.
WBCS officers, however, pointed out that such a decision will ultimately create rivalry among officers as those who are close to Banerjee will receive accolades and those who are not will have to face punishment.
Some senior WBCS officers said they were feeling the pinch after the Centre-state relationship worsened due to demonetisation. "Apart from dealing with the effects of demonetisation, now we have to be more cautious, especially while dealing with letters or information that they receive from the Centere," an officer said.
Banerjee seems to have taken such a decision as she feels that the Centre is disturbing the federal structure of the state by sending officers from the Union government directly to enquire about administrative issues, especially in financial matters.
Criticism
Both the CPI(M) and the Congress criticised the decision taken by the state government and said that the state is being autocratic and it will not help in development at all.
West Bengal Pradesh Congress President Adhir Chowdhury said: "We have already said that the chief minister is trying to create an autocratic atmosphere in the state and we will continue to voice our protest."
Political analysts, however, feel that it is difficult for officers to work if such a mandate comes from the chief minister. But, if the state government is being autocratic, it will lose in terms of all-round development.
According to them, the state government should work with the Centre for the development of the state keeping aside political differences.
Political analyst Prof Amol Mukherjee said: "Politics has come in the way of the overall development and this will eventually lead to disaster for the development of the state."
Edited by Jhinuk Sen