Assault on Swiss tourists puts Adityanath on the defensive during his Taj Mahal visit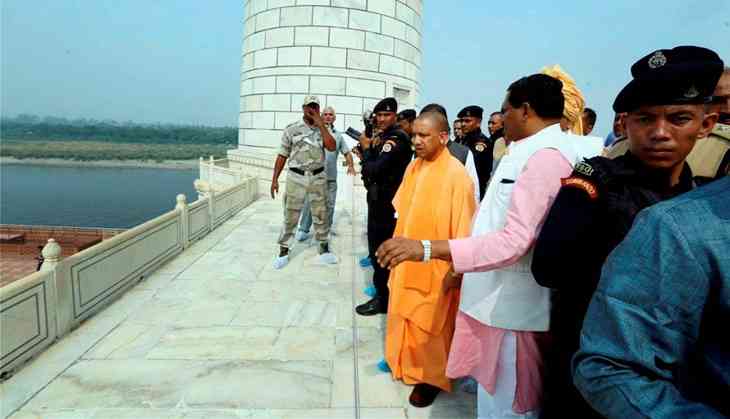 On Thursday, Uttar Pradesh Chief Minister Yogi Adityanath visited Taj Mahal, which has been described variously by Bharatiya Janata Party loudmouths as a "blot" and as "Tejo Mahalay". But the lustre of his visit, the first by a BJP chief minister of the state, was lost due to the brutal assault on a tourist couple from Switzerland's Lausanne.
Adityanath finally accepted the monument as "a heritage" and described it as India's "priceless jewel" but avoided mentioning Mughal emperor Shahjahan or his wife Mumtaz while praising the monument. Instead, he said, "Let us not go into why it was made, how it was made, when it was made. What is important is that the monument was built by the blood and toil of Indian labourers". It was our combined duty to protect the monument which is a cynosure of tourists the world over.
More than Adityanath's visit to Taj Mahal, Foreign Minister Sushma Swaraj and Union Tourism Minister KJ Alphons were concerned about the attack on Quentin Jeremy Clerc and his girlfriend Marie Droxz.
Clerc suffered a fracture to his skull and injury to his ear while Marie Droxz was left with a fractured arm. Given the serious nature of his injuries, Clerc had to be shifted to Apollo Hospital in Delhi.
The police said that one person has been arrested and three others involved in the attack have been identified.
Union Culture Minister Mahesh Sharma described the attack as "a matter of shame for us".
Chief Minister Adityanath said that "strongest action will be taken in violence against tourists".
More than the UP chief minister, it is the Centre that would be worried about the attack on tourists as it comes close on the heels of the controversy over Taj Mahal started first by the government which deleted its name from the list of tourist attractions in the state and fuelled by BJP MLA Sangeet Som, who called it a blot on India's history.
For Agra's tour operators and hoteliers the attack was a double blow.
Former Chief Minister Akhilesh Yadav asked, "What happened to the anti-Romeo squads? A couple visiting Fatehpur Sikri was beaten when they tried to click a selfie".
Taking a dig at Adityanath and BJP, Akhilesh said, "See how times change. Those who made derogatory remarks about the Taj Mahal and refused to accept it as the country's heritage and culture are forced by Lord Ram to launch a cleanliness drive at its west gate".
The Samajwadi Party president also tweeted: "Ye hai Jamuna kinaare khade Taj ka kahna; ye hai pyaar ka teerth, yahaan bhee aate rahna (Taj standing on the banks of Yamuna has this to say, it is a pilgrimage of love, do keep visiting)".
Law and order remains a critical issue in the state with rapes, murders and petty crimes continuing unabated. At a recent discussion with representatives of American companies, UP's Health Minister Siddharth Nath Singh acknowledged that law and order was a matter of concern but assured that the government was committed to eradicating crime.
For the record, Adityanath launched a mega cleanliness drive by sweeping the road outside the Taj Mahal's western gate. The chief minister spent about half an hour in the monument complex before leaving from the eastern gate to attend a presentation by the Archaeological Survey of India. He was also expected to launch a Rs 370 crore development project near the monument for the development of pro-poor tourism projects.