A house divided: will ex-spouse's attack on Mehbooba hurt her politically?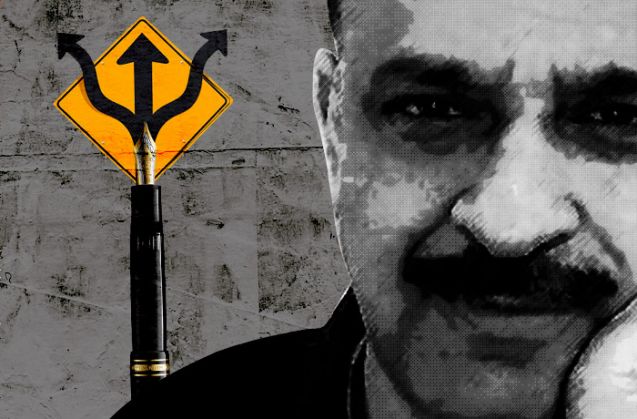 There seems no end to Mehbooba Mufti's woes. For over a month now, she has been under fire for endlessly delaying a decision on forming a new government with the BJP. Now, the PDP president's ex-husband has hit out against her.
In a stinging interview with The Telegraph, Javid Iqbal Shah has described his ex-wife as being "wrapped up in contradictions" and taken her party to task for its "dynastic politics".
Also read - Mehbooba plays hardball. Why it suits her to break with BJP
Shah's comments may cause further unease in a party riven with groupism, and paralysed with indecision.
Mehbooba has been dragging her feet on renewing the PPD's alliance with the BJP since her father and chief minister Mufti Sayeed died in office on 7 January. Her "ambiguity" has left Jammu and Kashmir under Governor's Rule, and brought her sustained criticism from the opposition National Conference. It also seems to have cost her party goodwill on the street.
Addressing his supporters in his constituency Beerwah, NC president and former chief minister Omar Abdullah castigated the PDP for maintaining "ambiguity".
PDP was created by Indian agencies to sabotage the freedom movement of Kashmiris: @sageelani
"The PDP's efforts to maintain ambiguity over government formation are based on the presumption that this delay can be marketed as a moral stand that the party had suddenly found. Now that Mehbooba Mufti has herself confessed that the people of J&K did not benefit from the 10-month long PDP-BJP partnership, one wonders who the beneficiaries of this alliance were," Omar said.
He claimed the PDP's "failure to take a clear stand" on the JNU crackdown has "further damaged" its claim of being a "pro-Kashmir" voice.
The criticism isn't limited to the mainstream politics either. The Hurriyat Conference led by Syed Ali Geelani has, in a recent statement, accused the PDP of being "a party created by the Indian secret agencies to sabotage the ongoing freedom movement of Kashmiris".
Also read - Personal & political: why is Mehbooba Mufti giving the BJP a hard time?
Troubling times
Clearly, her ex-husband's comments couldn't have come at a worse time for Mehbooba. And what he has said isn't really flattering. Here's a selection of his more acerbic remarks.
"From seeking to empower people, the PDP ended up with one family centralising power. Every second relation is legislator, contesting candidate or office bearer."

"The inner workings of the Muftis are strange, and to me very upsetting. In fact, their ways are responsible for my parting with Mehbooba. It's a long story."

"The present standoff is nothing but the usual blackmail that this opportunist conglomeration of people called the PDP is given to. Why are the terms it's negotiating with the BJP a riddle wrapped in a mystery inside an enigma?"

"I would like to hope Mehbooba is able to deliver but the fact is she is wrapped up in contradictions, this alliance re-staged or re-adopted does not leave much room for delivery."

"The PDP is a depreciated form of the National Conference, that's all. Time will prove the PDP-BJP alliance is farthest from the interests of the people of the state."
Shah and Mehbooba married in 1984 but got divorced within a few years. They have two daughters together, named Iltija and Irtiqa. Shah hasn't been in touch with them for a long time.
But what should one make of Shah's attack on his ex-wife and her party?
Also read - By the hard way: how Mehbooba Mufti rose to be J&K's CM-in-waiting
Personal politics
While some observers say it could be "politically motivated", others insist it is a "direct result of his personal grudge" against the Muftis.
"Well, he has no relevance. For many years, he has not even bothered about his family and Iltija and Irtiqa," said a source close to Mehbooba, requesting anonymity. "What does he know about the PDP and the Mufti family? His speaking at this time is very suspicious and seems motivated. A personal grudge, you know."
Shah, who is Mufti Sayeed's first cousin, had joined the National Conference in 2008. Welcoming him to the party, former chief minister Farooq Abdullah had described it as "auspicious tiding". Back then it was being said that Shah had been brought to the NC by a senior leader who wanted to pit him against Mehbooba, a move Abdullah apparently did not approve of.
Although Shah has long since left the party, the association is now being used to discredit his views.
I hope Mehbooba is able to deliver but the fact is she is wrapped up in contradictions: her ex-husband
"Javed Iqbal's critique of dynastic politics is fine but how could he justify his earlier decision of joining the National Conference, which is no different than the PDP when it comes to family control over the party," said an analyst who did not want to be named.
"The man sounds a ranter. In all fairness, he is an estranged divorcee and, therefore, would be carrying a lot of anger and remorse," the analyst said. "But the question is: why at this point?"
Why now, indeed? Also, whatever his motivation, could Shah's attack damage the PDP's stock, already downed by its "ambiguity" over allying with the BJP?
A PDP leader Catch spoke with conceded that "the chances of government formation are getting thinner by the day", but denied that Shah's comments would in any way affect the party's dealings, or fortunes. He described Shah as a "non-entity".
It's an assessment shared by Anuradha Bhasin, executive editor of the daily Kashmir Times. She agrees that Shah is a "political non-entity". "Honestly, I won't take Mr. Shah very seriously," Bhasin told Catch over the phone from Jammu.
Another political observer insisted that "someone somewhere must have instigated him to come into the picture at this time". He went so far as to raise questions over Shah's "mental make-up".
"He does not tell us something we do not know. All details in his interview are known to us," he added.
More in Catch - R.I.P #MuftiSayeed. What will the transfer to Mehbooba mean for J&K
Mehbooba dithers over oath-taking, top leaders' fate hangs in balance
Post Mufti, PDP-BJP coalition is a sinking ship. Can Mehbooba rescue it?
Clutching at straws? BJP hopes Mehbooba will keep the alliance