2019 Lok Sabha polls: Congress to alliance with BR Ambedkar's grandson's Prakash Ambedkar's outfit on this big condition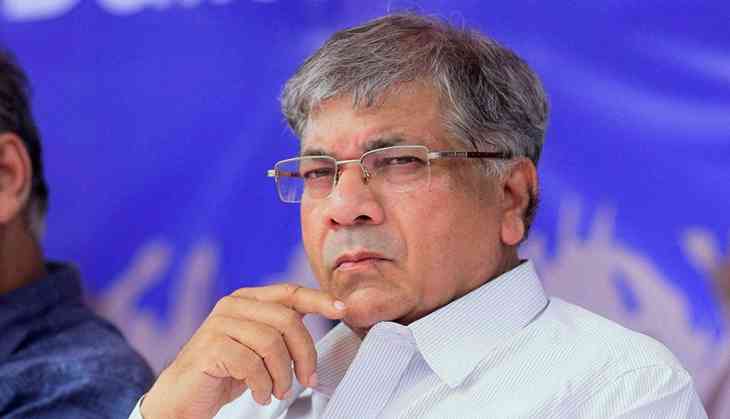 Congress party's Maharashtra unit has expressed willingness to openly support Prakash Ambedkar's outfit Bharip Bahujan Mahasangh (BBM) in the upcoming Lok Sabha election with a certain condition.
The Congress party has urged the Ambedkar's outfit BBM to snap ties with the AIMIM, which is led by Asaduddin Owaisi.
Prakash Ambedkar had earlier requested for an alliance with the Congress party in the upcoming Lok Sabha election for Maharashtra state and had demanded 12 seats to contest upon. But, the party's high command had not responded until now.
Congress spokesperson Sachin Sawant said that "It is true that Congress is ready to support Prakash Ambedkar if he chooses to contest the general election."
Congress still believes that AIMIM is a B-team of BJP, who is only present to cut and distribute the Muslim vote bank. The AIMIM had always remained categorically against the RSS and the BJP's ideology and party.
A Congress leader said "We consider AIMIM as the B-team of the BJP and therefore any alliance with Ambedkar's party will not be possible if joins hands with AIMIM," as reported by The Indian Express.
Although there are very grim chances of this alliance (Congress + BBM) coming together in the Lok Sabha elections, as recently in rally, the AIMIM and BBM had expressed their interests in contesting the parliamentary and state elections together.
Another leader who belonged to Congress party said that Ambedkar wants to part ways with Congress party and hence, the condition of 12 seats came up. Ambedkar, had earlier said that he was willing to join the Congress alliance but will have nothing to do with the Nationalist Congress Party.
Also read: Senior leader Azam Khan might quit SP; may join Shivpal Yadav's Samajwadi Secular Morcha ahead of