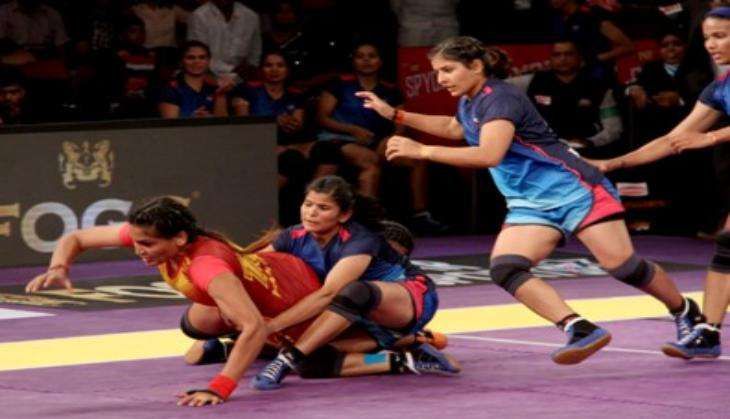 Skipper Abhilasha Mhatre led from the front as Ice Divas thrashed Fire Birds 24-14 in the fourth game of Women's Kabaddi Challenge at Sree Kanteerava Stadium, Bengaluru, on 13 July.
Abhilasha Mhatre marshaled her troops superbly and scored five points whereas Monu scored four tackle points for the Ice Divas. Meenal Jadhav scored four raid points for Ice Divas as they produced a dominating first half performance to record a memorable victory.
Ice Divas are top of the table with 10 points from three games whereas Fire Birds are second with eight points from three games.
Ice Divas began strongly as they sent Fire Birds skipper Mamtha Poojari to the bench and led 3-1 after five minutes. Meenal Jadhav scored four points with a super raid in the seventh minute to give Ice Birds lead 8-2. Ice Divas extended their lead in the next minute to 11-2 as they inflicted the first all out of the match.
Ice Divas' defence was sharp in the first half as the Fire Birds didn't score a single raid point in the first 10 minutes. Fire Birds finally scored their first offence point in 13th minute as they trailed 13-4. Ice Divas dominated the first half and went into the break leading 14-5.
Fire Birds began the second half brightly as they scored four points compared to Ice Birds' two in the first five minutes to trail 8-16. Mamtha Poojari scored her first raid point in the 24th minute as Fire Birds trailed 11-17. But Ice Birds nipped their hopes of a comeback with a super tackle in the 25th minute to lead 19-11. Ice Divas forced another super tackle in the 28th minute as they led 22-13.
Fire Birds suffered as their raiders put up a terrible performance and scored only four raid points. It was an impressive victory for the Ice Divas who had lost by 13 points to the Fire Birds in the opening match of Women's Kabaddi Challenge.
--ANI