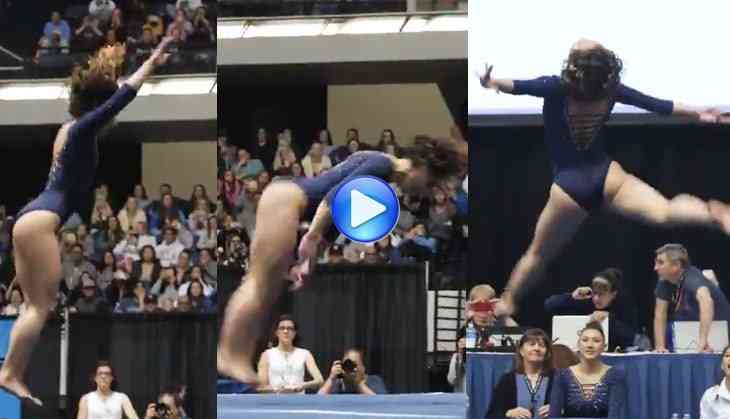 Doing gymnastics is not an easy task for anyone but this American gymnast gave an amazing performance and earned perfect 10 scores at the Collegiate Challenge in Anaheim.
Gymnast named Katelyn Ohashi has left everyone stunned with her outstanding floor routine and her video also went viral on social media.
A video of Ohashi performing her routine posted by her school, the University of California on Twitter.
The video has been liked and applauded by everyone and it has garnered over 31 million views, over 145,000 retweets and around 650,000 likes.
With Ohashi incredible routine, her team UCLA has topped the competition and secure the first rank a score of 197.700 against California, Michigan State and UC Davis.
Check out the viral video:
A 🔟 isn't enough for this floor routine by @katelyn_ohashi. 🔥 pic.twitter.com/pqUzl7AlUA

— UCLA Gymnastics (@uclagymnastics) January 13, 2019
As soon as the video went viral, it has brought the Internet by storm and also surprised the netizens with her performance.
Check out the reactions of Twitterati:
As great as this video is of @katelyn_ohashi's perfect 🔟, it's next level when you see it in person! Don't miss the Bruins in Pauley Pavilion on Monday, Jan. 21 at 2pm.

🎟️: https://t.co/MorPjc6s5I pic.twitter.com/9L6JwtyrXE

— UCLA Gymnastics (@uclagymnastics) January 13, 2019
THIS BIT?!?!?!?!!?! HOW?!?!?!?!! MAGIC!!??!??!?! pic.twitter.com/JeyW9QJ153

— bourgeois little prude (@Saraurora) January 13, 2019
OMG YOU WIN TODAY'S INTERNET 🤣😉

— Fuz Edwards (@PlanetFuz) January 13, 2019
I had about 12 of my co workers gathered around my computer to watch this. Phenomenal!

— Brie 🐶 (@meowmeowmeow07) January 15, 2019
I love these clips of AOC they keep finding...

— James (@bigdawg_sd) January 13, 2019
UCLA if you are recruiting, here's me doing the same routine!! Willing to lie about age to compete dm me pic.twitter.com/4Q96S7CA0E

— Alyssa Limperis (@alyssalimp) January 14, 2019