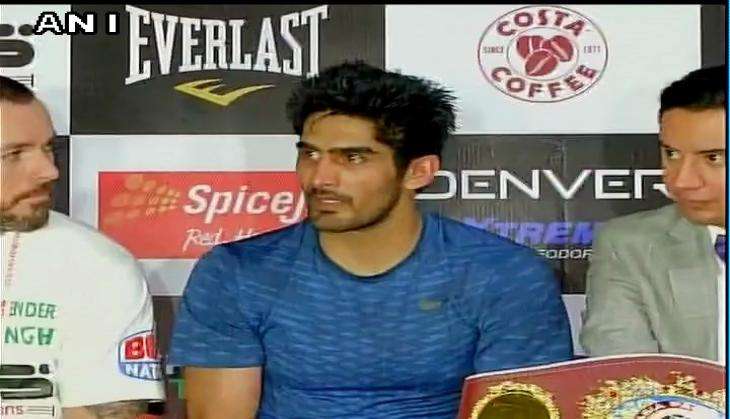 Indian Boxer Vijendra Singh recorded his 7th consecutive victory by beating Kerry Hope in the WBO Asia-Pacific Super Middleweight title at the Thyagraj Sports Complex in New Delhi on 16 July.
Singh beat Kerry Hope - 98-92, 98-92, 100-90 - to win the super middleweight belt.
Singh, after winning the match, dedicated his maiden title to boxing legend Mohammed Ali who passed away on 3 June this year.
Vijender dominated in the first two rounds and made Hope to go into defensive mode; however, Kerry with his resilient knock in the consecutive rounds was constantly evading Singh's penetrative punches.
The final round saw Singh leading with huge advantage come down heavily on Hope.
The exciting event saw the presence of several prominent politicians among other celebrities who came to witness the bout.
Union Sports Minster Vijay Goel, Congress vice-president Rahul Gandhi, Congress leader Rajiv Shukla and BJP spokesperson Shahnawaz Hussain were present for the encounter.
Among the Bollywood glitterati, Randeep Singh Hooda, Neha Dhupia, Ranvijay, Raghu and Rajiv of Roadies fame were spotted at the star studded event.
--ANI
Congratulations @boxervijender for a hard fought and well deserved win. It was yet another display of immense skill, strength & stamina.

— Narendra Modi (@narendramodi) July 16, 2016