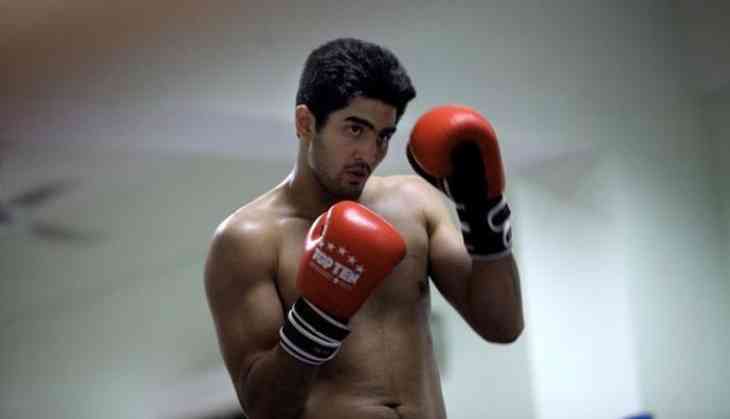 IOS Boxing promotions has announced Asia's Biggest showdown between India and China on August 5 at NSCI Dome, Mumbai.
The mega fight of Asia will see WBO Asia Pacific Super Middleweight Champion, Vijender Singh taking on China's number one boxer and WBO Oriental Super Middleweight Champion Zulpikar Maimaitali for a double title fight.
In this fight, both the boxers will put their respective WBO titles at stake. Whoever wins the bout takes home his defended title along with his opponent's title.
This fight between two top boxers of Asian subcontinent will decide the 'King of Asia'.
After a long gap of nine years, Vijender, Olympic quarterfinalists Akhil Kumar and Jitender Kumar will be seen in the ring together. This will be a great opportunity for the boxing fans to see three of their favourite stars in the pro circuit.
The first ticket of the fight night was presented to the cricket legend Sachin Tendulkar by the Indian boxing sensation Vijender Singh at his residence in Mumbai.
On receiving first ticket from Vijender for his Mumbai fight, Tendulkar said, "It was extremely thoughtful of Vijender to come and present me the first ticket and I hope he continues his winning streak. I would like to wish him all the very best as he is doing an excellent job of being India's flag bearer in the world of pro-boxing."
China's undefeated star boxer has eight bouts under his name, same as Vijender. Zulpikar has five knock outs wins and has fought 24 rounds. His last bout was with African boxer Thomas Mashali where he won his current title WBO Oriental Super Middleweight Champion last year. Zulpikar turned towards professional boxing in April 2015.
Vijender, who remained unbeaten since his debut in professional boxing, has fought eight bouts last one being against former world number one boxer Francis Cheka from Tanzania, where he defended his title.
Vijender clinched on to his first title in July 2016 against Kerry Hope of Australia, becoming the WBO Asia Pacific Super Middleweight Champion. In total, Vijender has fought eight bouts with seven of them being won by Knock-out.
He has 30 rounds under his belt, which gives him a slight edge over his opponent, who has fought 24 rounds till now.
Speaking about the fight, Vijender said, "This one is going to be an exciting fight night, not only is my title at stake but I will also be fighting for another title. I am very passionate about boxing and I have an aim of winning a certain number of titles, which I will complete at any cost. I have been training hard with Lee for almost three months and with every passing day my confidence has increased. There has been constant betterment in my strength and training."
Speaking on the warning given by the Chinese boxer, he said he was not scared at all these things.
"My title is not going anywhere. In fact on the 5th August I will be wearing two belts."
The other boxers that will feature in 'Battleground Asia' are Pardeep Kharera, Kuldeep Dhanda, and Dharmender Grewal.
• 21-year-old Pardeep Kharera comes from a small district in Haryana. Pardeep turned pro last year in February, till date he has 3 bouts with 11 rounds under his belt. He has had a good amateur boxing record with clinching 3 gold medals in national and international level boxing championships.
• Dharmender Grewal who turned towards professional boxer in April last year, has won 2 bouts since his debut, with one resulting in a Knockout win. He also holds an exciting record in the amateur boxing world with two silver and two gold medals in the domestic competitions.
• Haryana boy Kuldeep Dhanda, 27, who turned professional in April last year in the light weight category made a good start in his career winning 3 out of 3 bouts. In his amateur career, he has grabbed 4 gold medals in state level championships.
-ANI