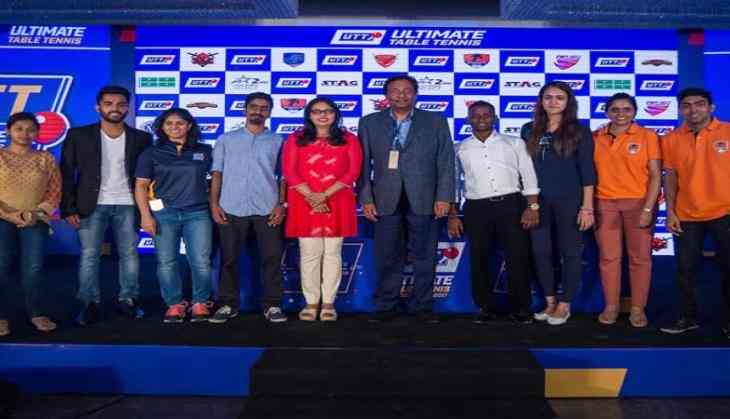 Inching closer to the much-anticipated inaugural edition of the Ultimate Table Tennis (UTT), India's newest franchise-based professional sports league, 24 foreign players and 24 Indian players (both men and women) were drafted into six different franchises on Friday at the NSCI, UTT venue partner.
Top shots Wong Chun Ting of Hong Kong, who is World No.7 and also the Bronze Medalist in the mixed doubles event at the recently-concluded World Championships in Dusseldorf was bagged by Maharashtra United, while second highest ranked in the men's category Marcos Freitas of Portugal will play for Dabang Smashers and India's No.1 Sharath Kamal who was among the major attractions in men will turn up for RP-SG Mavericks.
Among the 24 foreign players, 21 of them are Olympians with iconic women players Han Ying of Germany and Wu Yang of China in the fray. Highest ranked women's player Han Ying will play for Challengers while Wu Yang, the only player from China, will represent Bayside Spinners.
On the other hand, Oilmax-Stag Yoddhas picked Doo Hoi Kem who had teamed up with Wong Chun Ting to win the Bronze Medal in the mixed doubles at the 2017 World Championships. Soumyajit Ghosh who is the youngest Indian Olympian in the fray was picked by Challengers. Meanwhile World No.37 Li Qian who had to pull out due to health issues is now replaced by World No. 55 Sofia Polcanova from Austria and she was drafted into RP-SG Mavericks.
"I am excited to be selected by the Dabang Smashers for the Ultimate Table Tennis. The team has good players and I'm thrilled to play alongside them. This league will definitely help the sport prosper in India. The four Indian players in my team are from ONGC so it already seems like a good mix to me," stated India's No.1 women's player Madhurika Patkar who was present at the Players Draft.
Harmeet Desai, India No.2 in men's category, who was also at the NSCI for the event said, "The Ultimate Table Tennis will offer a great exposure to our Indian players to play alongside top ranking foreign players and also to be trained by the foreign coaches. I am really looking forward to the league." Desai will turn up for Maharashtra United.
The Ultimate Table Tennis (UTT) scheduled to begin in July promises to be a sporting breakthrough with six top franchises confirming their participation. Unlike other major sporting leagues being run in the country currently like IPL and ISL, UTT will have club based franchises rather than city based franchises.
The inaugural season will be played from July 13 to July 30, 2017 at state-of-the-art facilities in Chennai, Delhi and Mumbai. The first two legs will be held in Chennai and Delhi before UTT shifts base to Mumbai for the finale.
Each franchise will comprise of a combination of overseas and Indian players- four men and four women, along with one Indian and one International coach each.
-ANI