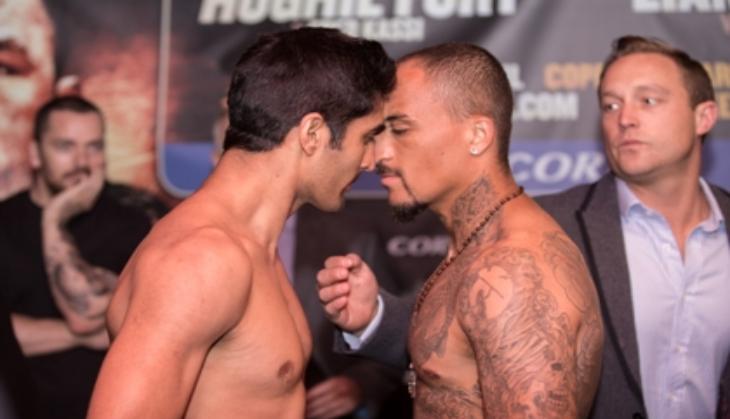 Indian boxing sensation Vijender Singh and his French opponent Matiouze Royer went head-to-head during their official weigh-in at the Copper Box Arena on 29 April.
29-year-old Royer is Singh's most experienced opponent to date and will surely be a stern test for the big-hitting Indian.
Also read: Vijender promises another knockout on his Copper Box return
The six-feet terror from Bayonne in South West France went head-to-head with Singh after the pair had weighed in at last night's venue.
Despite the massive showdown being little more than 24 hours away, Royer couldn't wait to get his hands on Singh and appeared to head-butt the undefeated middleweight star.
Both men were forced away from each other by on looking officials as tempers seemed to boil over.
Royer is a veteran of 44 fights, claiming three of his 14 wins via knockout and has promised to spoil the party when he meets the Indian pro boxer in the ring on Saturday.
"I know I have got the beating of Vijender already; I saw it in his eyes. He looked scared to me. There's no doubt in my mind I'll knock him out tomorrow night. There's a lot of hype around this guy and I can't wait to be the one to put him in his place," said Royer.
Singh looked in impressive condition as he hit the scales at 11 stone 13lbs while hot-headed Royer came in at 11 stone 13lbs.
-ANI