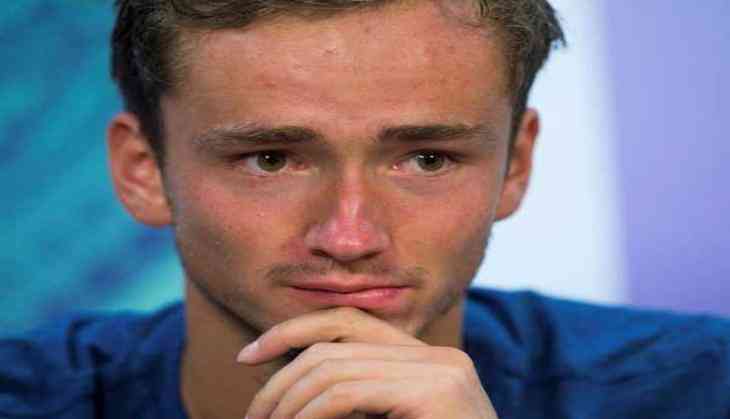 Russia's Daniil Medvedev, who had sensationally knocked out U.S. Open champion Stan Wawrinka of Wimbledon, is facing disciplinary action from tournament officials after he threw coins at the chair of the umpire during a bizarre outburst at the end of his second round defeat.
The 21-year-old reacted angrily to a series of controversial calls during his 6-4, 6-2, 3-6, 2-6, 6-3 loss to Ruben Bemelmans on Wednesday.
Suffering from a meltdown, he appeared to ask the court supervisor to remove Mariana Alves as umpire late in the fifth set and then emptied his wallet of loose change moments after losing the match, reports the Guardian.
The tournament officials are likely to disapprove of his conduct, despite him saying that there was no deeper meaning to his behaviour.
Medvedev is likely to be given a hefty fine.
After the match, he was unsurprisingly bombarded with questions about the bizarre behaviour, with some suggesting that he was questioning the integrity of the official. He, however, said that he apologise to Alves personally if he sees her.
"I was just frustrated, so it has no meaning," he said. "I haven't thought about it."
The 21-year-old further said that it was really stupid of him to have done that.
"It would be really stupid," he claimed. "It was stupid, but it was not like this. It was just that I was packing my things and I saw my wallet. In the heat of the moment I did a stupid thing. I was ready to leave the court, but that's what happened. I don't even remember what the coins were," he added.
The world No. 49, who was not able justify his behaviour, said that he had immediately regretted it.
He further said that he was disappointed with the result of losing the match.
"I was disappointed with the result," he said. "It was frustrating after a big win. The match was not going well for me. In the heat of the moment, I did a bad thing. I apologise. Sometimes you are unhappy with the call. Sometimes it's in your favour. It happens," he added.
This is not the first time that he has clashed with officials.
Last year, Medvedev was disqualified from a Challenger tournament in the United States for making a racist comment after the umpire ruled in favour of his opponent Donald Young.
-ANI