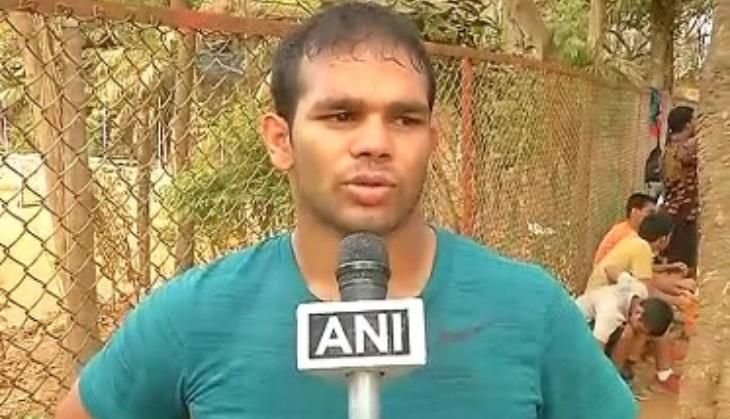 Expressing delight over his name being sent to Indian Olympic Association for the forthcoming Rio Olympics, wrestler Narsingh Yadav on Friday insisted that going to the Brazilian capital is his right as he bagged the quota in the 74kg category with a bronze medal finish in last year's World Championships.
"I am happy that my name has been included in the list of probables for the Rio Olympics but it is also my right because I won the bronze medal during the World Championship last year to qualify for the Rio Games," Narsingh told ANI.
The impasse around India's representation in the 74-kg men's wrestling is showing no signs of abating as two-time Olympic medallist Sushil Kumar, who also won gold in the same category at the 2014 Commonwealth Games, wants trials to determine who should go to Rio Games.
However, 26-year-old Narsingh ruled out any possibilities of a trial with compatriot Sushil, while asserting that he is the country's best contender in the 74kg category.
"There is no question of conducting trials. If we look into our history and tradition, only the quota-winning wrestlers are sent to compete in Olympics. It was a right decision made by the Wrestling Federation of India as well as it is my right as I have been performing well consistently and I am the best contender in the 74kg category," said Narsingh, who won the gold medal at the 2010 Commonwealth Games in the same category.
Narsingh stated at a time when is entirely focused in his preparation for the Rio Games, he was forced to field questions about trials. "After qualifying, nobody has ever given any trials. Hence, focus should be towards my medal prospects instead of conducting trials as the Rio Olympics is fast approaching."
Meanwhile, Sushil has written a letter to Sports Minister Sarbananda Sonowal, requesting him to conduct a wrestling trial.
So far seven grapplers have secured their berths for Rio Games, the most for India in the sport at any Olympics.
-ANI