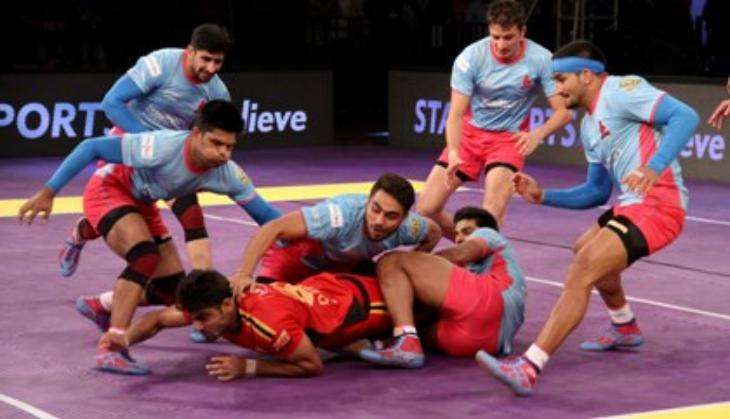 Jaipur Pink Panthers kept their composure as they beat Bengaluru Bulls 24-22 to surge to the top spot in the fourth edition of the ongoing Pro Kabaddi League at the Sree Kanteerava Stadium on 13 July.
It was a third straight victory for Jaipur Pink Panthers while Bengaluru Bulls crashed to a second successive defeat.
Captain Jasvir Singh scored five raid points and Amit Hooda scored five tackle points in Jaipur's fine victory.
The win catapults Jaipur Pink Panthers to the top spot as they have 30 points after eight games. Bengaluru Bulls remain in sixth position with 21 points from nine games.
Rajesh Narwal scored the first point of the match as Jaipur Pink Panthers led 1-0. Bengaluru Bulls responded immediately with a super raid as Deepak Kumar Dahiya scored three points.
Bengaluru Bulls led 5-1 after six minutes as Jaipur Pink Panthers were reduced to just two men. Jaipur Pink Panthers forced the first super tackle of the match in the seventh minute as they trailed 4-5.
The Pink Panthers scored five consecutive points to lead 6-5 after 10 minutes with their attack and defence contributing equally. They led 9-7 with less than six minutes to go in the first half and Bengaluru Bulls were reduced to two men.
Jaipur Pink Panthers inflicted the first all out in the 16th minute as they led 13-8. Rohit Kumar had an extremely quiet first half for Bengaluru Bulls as he scored just one point. Bengaluru Bulls defence was poor in the first half and they got just one tackle point as they trailed 9-15 at the end of the first half.
Rohit Kumar scored two raid points in the 21st minute to reduce the deficit to four points for the Bulls. Bengaluru began the second half sharply and Ashish Sangwan scored two raid points in the 25th minute as they cut Jaipur's lead to just one point.
Bengaluru Bulls inflicted the first all out in the 25th minute as they led 17-16. Bulls' defence got their act together in the second half as they scored three tackle points to lead 19-17 after 29 minutes. It was a tied game after 30 minutes as both teams continued to battle hard.
After 35 minutes, it was 21-21 as both teams were looking to play on do-or-die raids. Jaipur Pink Panthers took a two-point lead with less then three minutes to go. Jaipur held their nerve, played out a few empty raids to pile pressure on Bengaluru Bulls to script a narrow 24-22 win.
--ANI