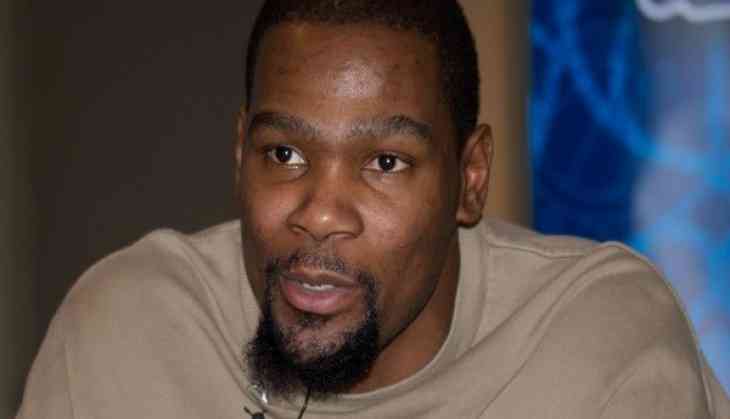 Just a day after saying that India is 20 years behind the world in knowledge and experience, NBA champion and Finals MVP Kevin Durant of the Golden State Warriors has apologised for his comments, insisting that his statement was taken out of proportion.
In an interview with The Athletic website, the 28-year-old spoke about his maiden visit to India last month.
Durant had said that India is a `rough` country wherein just a bunch of underprivileged people want to learn basketball.
Durant had also marvelled at the "cows in the street, monkeys running around everywhere, hundreds of people on the side of the road" and visible poverty.
"I went with no expectation, no view on what it's supposed to be like. I usually go to places where I at least have a view in my head. India, I'm thinking I'm going to be around palaces and royalty and gold - basically thought I was going to Dubai . Then when I landed there, I saw the culture and how they live and it was rough," the Basketball star had said.
"It's a country that's 20 years behind in terms of knowledge and experience. You see cows in the street, monkeys running around everywhere, hundreds of people on the side of the road, a million cars and no traffic violations. Just a bunch of underprivileged people there and they want to learn how to play basketball. That was really, really dope to me," he had added.
Issuing an apology for the same, Durant insisted that he just spoke about his imagination of India and what he actually saw in New Delhi before promising to return to India.
"Sorry that my comments about India were taken out of context. I'm grateful for the time I've got to spend there and I'm really p***** about how my comments come off. That's my fault. Should've worded that better.I spoke about the difference between my imagination and reality there in Delhi and about where the game is compared to the rest of the world. No offense from this side. I'm coming back out there for more camps and cool s***," he wrote on Twitter.
August 11, 2017
During his first-ever trip to India, Durant conducted the record-breaking feat at The NBA Academy India in the Delhi/NCR for the top male and female prospects from throughout the country which opened in May.
Durant was in India to support the continued growth of basketball in the country. While in Delhi, he coached the country's top prospects at The NBA Academy India and built two new basketball courts to the Ramjas School as part of the Kevin Durant Charity Foundation's BUILD IT AND THEY WILL BALL Courts Renovation Initiative.
-ANI