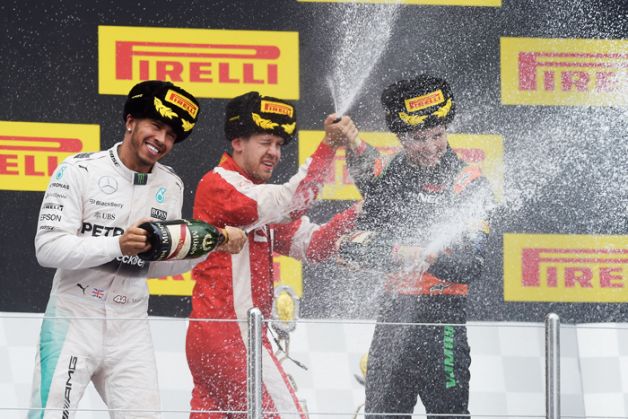 Mercedes British driver Lewis Hamilton took the chequered flag and secured his third Formula 1 World Championship title on 25 October. Sunday's thrilling United States Grand Prix saw crashes, retirements, two safety cars, two virtual safety cars and all-round action.This is Hamilton's 43rd career F1 victory.
Only four drivers - Michael Schumacher, Juan Manuel Fangio, Alain Prost and Sebastian Vettel - have won more than three Formula 1 drivers' titles. Hamilton became the second British driver after Sir Jackie Stewart to win three Formula 1 drivers' titles.
Had Ferrari's Sebastian Vettel finished second, the championship would have gone into the next race in Mexico. Or, if Nico Rosberg hadn't run wide and given teammate Hamilton the lead in the last ten laps, things would've been different, All these were possibilities during the race. But it ended with Hamilton being proclaimed the Formula 1 world champion for 2015.
With Hurricane Patricia threatening to play dampener on the competition, the qualifying was shifted to Sunday. The competition went by smoothly and spectators were treated to a topsy-turvy race
Hamilton needed to beat his closest rival in the standings, Vettel, by nine points and his Mercedes teammate Rosberg by two points. He finished 76 points ahead of Vettel with 75 points on offer in the final three races. Rosberg finished second, while Vettel came third.
The celebrations have only just begun, and with three races left, they are sure to go on well into the New Year for Hamilton.