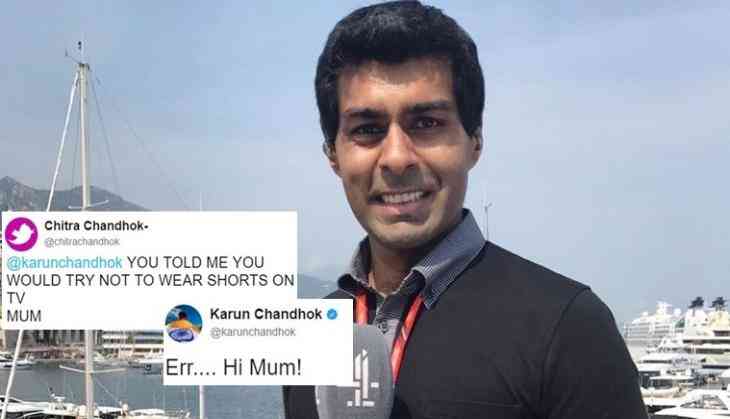 Famous sportsperson Karun Chandhok, who is a popular Formula E racing driver, has hit the headlines because of his mother's tweets on Twitter.
Mother of the 33-year-old sportsperson gave a hilarious response when she saw a picture of her son wearing shorts on a TV show.
Karun's mother also tweeted to the channel which posted a picture of her son's legs from the commentary box as they excitedly announced going on air shortly.
Channel 4 F1 tweeted "Karun takes a breather in the commentary box. We're on air tomorrow but he and Ben still broadcast to partners around the world." Check out their tweet here.
Put Tweet here
Karun takes a breather in the commentary box 🎙️

We're on air tomorrow but he and Ben still broadcast to partners around the world #C4F1 pic.twitter.com/yyaoPiEjiZ

— Channel 4 F1® (@C4F1) July 7, 2017
After viewing the Channel 4 F1 tweets, Karun's mother replied: "PLEASE DONT PUT MY SONS ORANGUTAN LEGS ON YOUR TWITTER I BEG YOU. @karunchandhok YOU TOLD ME YOU WOULD TRY NOT TO WEAR SHORTS ON TV . MUM"
Put Tweet here
PLEASE DONT PUT MY SONS ORANGUTAN LEGS
ON YOUR TWITTER I BEG YOU.@karunchandhok YOU TOLD ME YOU WOULD TRY NOT TO WEAR SHORTS ON TV
MUM https://t.co/RXeBb9qg7y

— Chitra Chandhok- (@chitrachandhok) July 7, 2017
An embarrased Karun had really nothing to say to his mother, except for an "Err…. Hi Mum!"
Err.... Hi Mum! https://t.co/9kwy6lHjhm

— Karun Chandhok (@karunchandhok) July 7, 2017