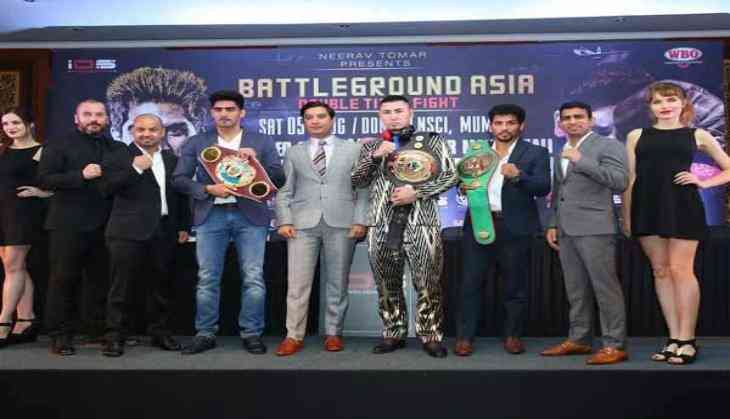 China's number one boxer and WBO Oriental Super Middleweight Champion Zulpikar Maimaitali has hit back at Vijender Singh ahead of Asia's biggest showdown 'Battleground Asia', saying he will show the Indian knockout king what "Chinese are capable of".
The 'Battleground Asia' to decide King of Asia is scheduled at NSCI in Mumbai on August 5.
Ahead of the bout, Vijender had trolled his Chinese opponent and said that he would try to finish the bout as soon as possible as "Chinese products don't last long".
Replying to Vijender's comments Maimaitiali said, "I will show Vijender what Chinese are capable of, we have shown India time and again what China is capable of, it is time that Vijender too learns his lesson. I am coming to your home Vijender on 5th August and will take back your belt along with mine. I am going to knock you out in the early rounds".
"I am fully prepared for this fight, this will be a big fight of my career as I am eying second belt of my pro career. I don't think he ever stood a chance in front of me, he thinks I am a kid. I will show what this kid is made of," he added.
This fight between two top boxers of Asian subcontinent will decide the ' King of Asia'.
China's undefeated star boxer has eight bouts under his name, same as Vijender. Zulpikar has five knock outs wins and has fought 24 rounds. His last bout was with African boxer Thomas Mashali where he won his current title WBO Oriental Super Middleweight Champion last year. Zulpikar turned towards professional boxing in April 2015.
Vijender, who remained unbeaten since his debut in professional boxing, has fought eight bouts last one being against former world number one boxer Francis Cheka from Tanzania, where he defended his title.
He clinched his first title in July 2016 against Kerry Hope of Australia, becoming the WBO Asia Pacific Super Middleweight Champion. In total, Vijender has fought eight bouts with seven of them being won by Knock-out.
He has 30 rounds under his belt, which gives him a slight edge over his opponent, who has fought 24 rounds till now.
-ANI