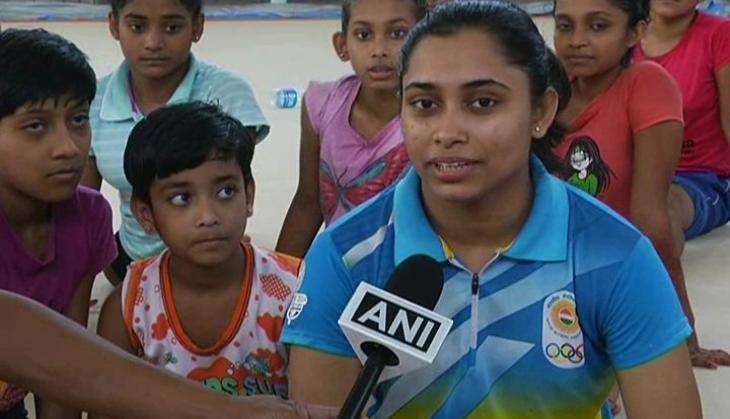 Star gymnast Dipa Karmakar has rubbished all reports stating that she wants to return the BMW, awarded to her by legendary cricket Sachin Tendulkar, due to poor road conditions in Tripura.
"See it is not at all like this, I cannot even do that because getting a gift from Sachin Sir's hand itself is a very big thing. I got the key from him. In fact, I cannot even think of refusing or returning it back," said Dipa, whose favourite sport star is the Master Blaster.
Strongly refuting the media report that it was due to bad roads in Tripura that she was returning the BMW received in Hyderabad, Karmakar said, "See here in Agartala, we don't have showroom or service centre of BMW and, therefore, I asked them (members of Badminton Association of Hyderabad) for any other vehicle which is locally available and they also gave their consent for that. Other than this there is no other issue."
Also Read: Dipa Karmakar returns the BMW car gifted to her. Guess why?
Dipa Karmakar's father Dulal Karmakar has also stated that due to absence of any BMW service centre in Tripura, he along with Dipa and her coach Bishweshwar Nandi, had jointly requested president of Hyderabad Badminton Association (BAH), V Chamundeswaranath if they could give her the price of the BMW as cash with which she would buy a car that has its showroom and servicing centre in her home town.
Getting any gift from Sachin sir is a big thing. Can't even think of returning it: Gymnast Dipa Karmakar on BMW controversy. pic.twitter.com/bxZPzkhs3F

— ANI (@ANI_news) October 13, 2016
No return or refusal, just that there is no showroom, service centre of BMW in Agartala, so I was talking about a possibility: Dipa Karmakar pic.twitter.com/JbhHKjjtvl

— ANI (@ANI_news) October 13, 2016
I spoke with them (Badminton Association of Hyderabad) for any vehicle locally available and they gave their consent for that: Dipa Karmakar pic.twitter.com/fqNVkwEPlD

— ANI (@ANI_news) October 13, 2016
"No question arises of returning back the gifted BMW in Hyderabad. The main problem is that BMW does not have a showroom here, if the car has any problem we have to fly a mechanic from Kolkata and it will be very expensive. So, I along with my daughter and her coach, had decided and ask them that instead of a car if they could give the price of it as cash so that we can buy a car which is available here," said Dulal.
In August for her achievement at the Rio Olympics, Dipa, along with India's two other medalists badminton star PV Sindhu and wrestler Sakshi Malik and Sindhu's coach Pullela Gopichand, each received a BMW car gifted by the president of the BAH.
At the 2016 Rio Olympics, Dipa narrowly missed out on a bronze medal in the women's vault event.
--ANI