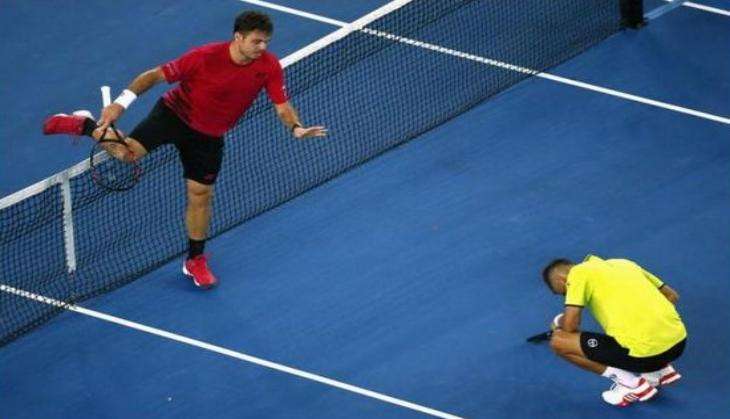 World Number four player Stan Wawrinka smashed a ball into his opponent, Martin Klizan's groin at close range, in the first round of the Australian Open on Monday. Crowd booed Wawrinka after the incident.
Wawrinka, who won the five-setter match to reach the second round of the Australian Open, issued an apology after hitting Klizan.
Wawrinka fought back from a break down in the final set to overhaul Klizan 4-6, 6-4, 7-5, 4-6, 6-4 in a match that lasted for almost three and a half hours on Margaret Court Arena.
However, there was a dramatic moment in the last set when the three-time Grand Slam champion, fired a volley at Klizan, who had conceded the point after a rally and was standing at the net.
Then fourth seed, however, quickly jumped over the net to offer his apologies as the Slovak sunk to his haunches in pain.
"That was, for sure, a tough shot for him. The thing is there are some players they fake you, and you stop playing and then they just put up the racquet," Sport24 quoted Wawrinka as saying.
"So for me I already miss some easy ones. For me the most important thing was to run straight over to him. I just wanted to make sure he was okay. I realized he was okay."
"I'm sorry I touch him in the wrong place. But I think it was okay at the end," he added.
Klizan, the 35th ranked player, preferred not to pass judgement on his Swiss opponent but he said the latter could have hit his volley anywhere on the court.
--With ANI inputs