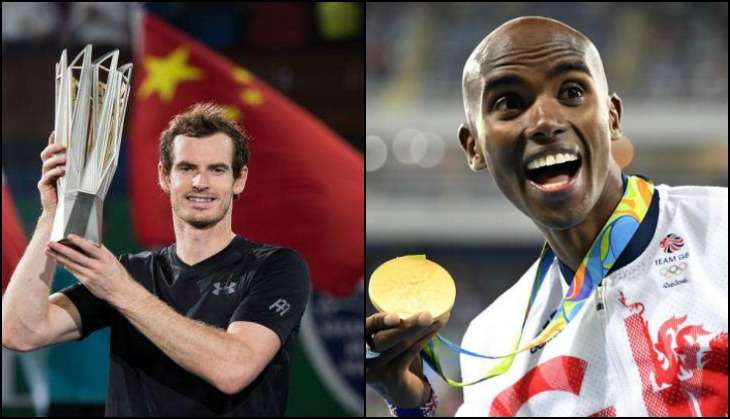 World number one Andy Murray and Olympic gold medallist sprinter Mo Farah have been knighted in the Queen's New Year Honour list.
Murray will receive the knighthood for his stellar season, having ended Novak Djokovic' 122-week reign to become the second-oldest player since John Newcombe in 1974 to debut at World No. 1.
The Briton notched up a total of nine titles this year, including a second Wimbledon title and a second Olympic singles gold in Rio de Janeiro.
Murray said that although he would be glad to receive the knighthood, he insisted that he is `too young` to be awarded the country's `highest honour`.
"Obviously it is the highest honour you can get in this country. But I feel like I'm too young for something like that. When I win any award or am presented with anything it is nice because it is recognition for what you have given your life to -- up to now anyway," Sport24 quoted Murray as saying.
Insisting that he could still commit a lot of mistakes, the tennis star said that he hopes to keep working hard and continue to reach greater heights in the coming future.
"I am still young and there are still a lot of things that can go wrong. I could still mess up and make mistakes. I am just trying to keep doing what I am doing, working hard and achieving stuff," Murray said.
Farah, on the other hand, will receive the award after retaining his 5,000 and 10,000 metres titles at the Rio Olympics, thereby becoming the first British track and field athlete to win four Olympic gold medals.
Ecstatic to achieve the `incredible` honour, Farah said that it is dream come true for him before adding that he feels extremely proud to have got the opportunity to race for his country.
"I'm so happy to be awarded this incredible honour from the country that has been my home since I moved here at the age of eight.I'm so proud to have had the opportunity to race for my country and win gold medals for the British people, who have been my biggest supporters throughout my career," he said.
Besides Murray and Farah, Para-equestrian Lee Pearson is also knighted in the New Year Honours list after clinching gold in the Individual Freestyle grade Ib and silver in Dressage and golds in Beijing and London.
--ANI