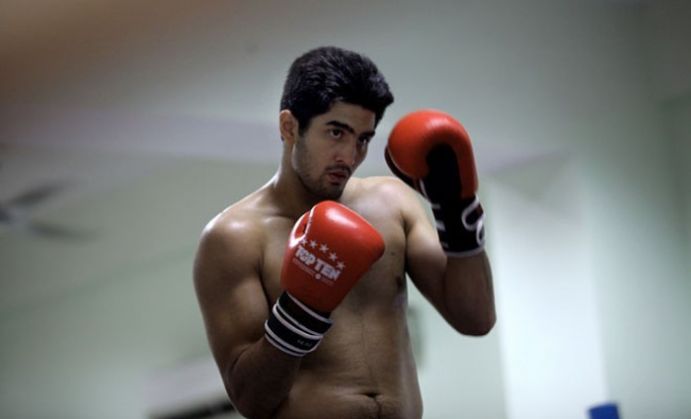 Following a stunning debut in professional boxing, Vijender Singh will take on Dean Gillen in his second bout on 7 November in front of an audience that will not only have boxing enthusiasts in attendance but also Hollywood executives exploring his potential as a movie star.
The Haryana boxer had attracted plaudits across the globe for his Technical Knockout (TKO) win against Sonny Whiting in his professional debut last month. The 30-year-old Indian will now face the British firefighter turned professional boxer in a four-round contest.
Vijender has been a popular figure in India not just for his boxing capabilities, but also for his acting skills. He has already made his debut in Bollywood following his appearance in the film 'Fugly'. Apart from Bollywood, he was also seen on the Indian reality TV show MTV Hero Roadies X2.
"I'm very excited by Vijender and his potential and we're looking forward to seeing him up close on Saturday night and taking it from there. I've only seen his first fight and being a boxing fan, that was something special and some of my close associates also mentioned it," the Hollywoood executive, who preferred anonymity for the time being, was quoted as saying in a statement issued by Vijender's promoters IOS.
"He's got a special commanding presence and aura about him in the ring, likes he's the king of the ring, and I think that it could transfer onto screen, who knows, we just want to see him on Saturday first and we're hoping for another exciting performance," he added.
Vijender arrived in the city on 5 November with his Indian promoter Neerav Tomar and trainer Lee Beard.
"I'm getting a really good buzz being in Dublin and the city has really taken me in, I can't wait for Saturday night and give the fans a good night of action," Vijender said.
"I've been over once before after the 2012 London Olympics and trained with the Irish amateur boxing team and I had a brilliant time then, so it's fantastic to finally return to actually fight here for the first time and show what I can do.
Talking about his next opponent, Vijender said: "I'll see what Gillen brings to the ring against me. He's another challenge so he'll make me raise my game and perform. I've been in the gym perfecting and improving and I'll be looking to put on something a little bit special for the Irish fans."