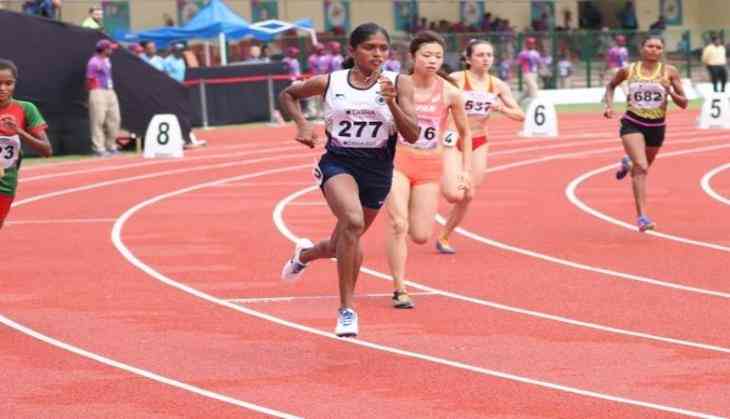 Tintu Luka remained in contention to defend her women's 800m title by setting the fastest qualifying time in the morning session on Day 3 at the 22nd Asian Athletics Championships today.
Junior national record holder Lili Das qualified second from Heat 3 in the same competition, while Archana Adhav, the third competitor from India, also made it to the final in a relatively slower Heat 1.
Heavy rains from Friday night gave way to a muggy morning session on Day 3, as India's hopes of a medal in the men's 800m also looked bright with 2015 Asian Championships silver medalist Jinson Johnson winning the first heat and qualifying with the third fastest time, just behind Incheon Asian Games bronze medal winner Jamal Hairane of Qatar. Sho Kawamoto of Japan, however, looked the man to beat after setting the fastest time in qualification.
With a strong line-up fielded by India in the women's heptathlon, 2015 bronze medalist Purnima Hembram gave a good account of herself in the 100m hurdles leg of the event, with Swapna Barman finishing fourth in the race.
Barman, however, set the bar high in the high jump, clearing a distance of 1.89m to top the leaderboard after two events. Liksy Joseph, who won silver in Wuhan in 2015, came up with middling performances in both events, looking to make it up in the later stages.
While the women's 100m hurdles event proved disappointing for India's only participant Nayana James, 2015 Asian Championships bronze medalist remained in medal contention by qualifying for the final. Amongst the men, Siddhanth Thingalaya, who broke the national record last month, qualified for the final of the 110m hurdles event.
All three Indians - Ankit Sharma, Shamsheer and Siddharth Mohan Naik - qualified for the final of the men's long jump event.
On an evening session that will feature seven medal events, Olympic gold medalist DilshodNazarov will look to defend his Asian Championships crown in the men's hammer throw in a strong field that also includes Asian Games silver medalist Wang Shizhu. Amiya Kumar Mallick, who was disqualified from two events on Friday, will have a chance to redeem himself in the heat of the men's 200m dash.
India will look to consolidate its position at the top of the medals tally through the 3000m steeplechase set to take place this evening. In-form Sudha Singh in the women's race and Asian Games bronze medalist Naveen Kumar will attempt to go for gold in the men's race. More medal hopefuls will compete in the finals of women's triple jump, the 400m hurdles and women's 4x100m relay.
-ANI