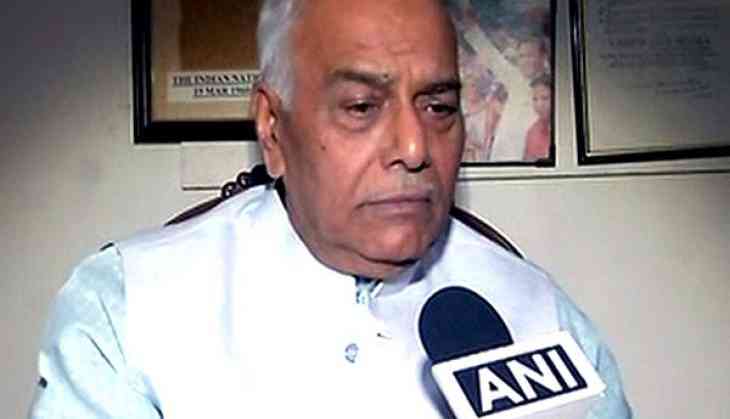 Hours after the government dubbed the Naxal attack in Chhattisgarh's Sukma district as a 'cold-blooded murder', former union minister and BJP veteran Yashwant Sinha while expressing grave concern called for improvement in the standard operating procedure and wondered whether this was a result of intelligence failure.
Sinha called for improvement in intelligence inputs to ensure that such unfortunate incidents do not occur ever again.
"It is an extremely painful incident. I feel that there should be a standard operating procedure under which investigations are done on such issues. Proper investigation should be made whether we had the intelligence inputs or not and whether he had a proper back-up," Sinha told ANI.
"So, all this should be investigated and action should be taken thereafter because around 75 people jawans were killed in Dantewada earlier in 2010," he added.
Meanwhile, Union Information and Broadcasting Minister M. Venkaiah Naidu said the Centre and state governments will work in coordination to fight this menace and uproot it from the society.
"It is a very serious problem, which has been going on for very long. The states and the central government have been working on this. In the coming days, we will work in more coordination. We will not leave them, they (Naxals) have no direction, they are against humanity. The Centre will work more seriously to give them a befitting reply," he said.
He said Naxalism is anti-development and does not have any place in a democratic society.
"Some of the people who writes articles, who always comes to the forth to condemn the government, police whenever they take actions against Naxals, Maoist why are they silent now? Naxals are becoming violent day by day and these people are silent. That really exposes them because they are the agents of the Maoist," he added.
Earlier in the day, Union Home Minister Rajnath Singh said the government has taken as a challenge the killing of CRPF personnel and vowed that no one will be spared.
He said that the Centre and state government would work together to ensure that the perpetrators are brought to book.
Singh, who paid homage to the jawans during a wreath laying ceremony here along with his deputy Hansraj Ahir and Chief Minister Raman Singh, said this cowardly and unfortunate act exposes desperation and frustration.
"It is a cold blooded murder by the extremists. The Centre and state governments will work together and take action in this regard," Rajnath told a joint press briefing with the Chief Minister here.
The Chhattisgarh Chief Minister has called for concrete strategy to counter such attacks, while expressing grief over the death of jawans.
"It's high time when we need to adopt some strategies to counter such attacks in future. I offer my condolence to the families of deceased jawans," Raman said.
The Home Minister also briefed Prime Minister Narendra Modi on the attack last night.
As many as 25 CRPF personnel were killed and six others injured in the encounter with Naxals in Chhattisgarh's Sukma yesterday.
The attack took place on personnel of the CRPF's 74th Battalion as they were assisting the local population in road building activity in the district.
-ANI