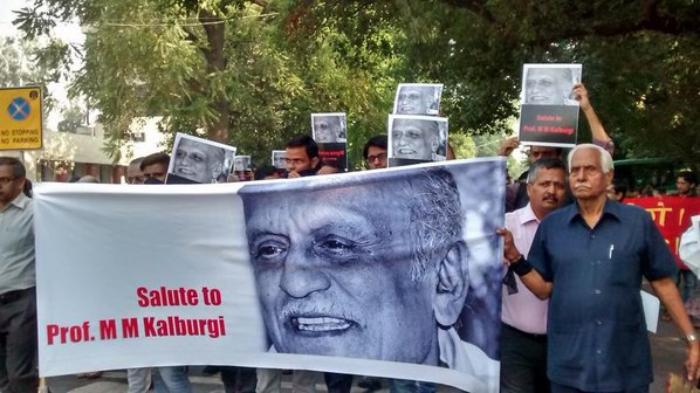 About a 100 writers, poets and artists marched on the streets of central Delhi on the morning of 23 October to protest against "rising intolerance" in the country.
The protestors, who wore black ribbons on their heads, gathered at Shri Ram Centre near Mandi House and marched towards Sahitya Akademi.
At the #SahityaAkademi, protesters shout 'Vande Mataram' and 'Inquilaab Zindabad'. General Council meeting underway. pic.twitter.com/wCV1mJp434

— Devapriya Roy (@DevapriyaRoy) October 23, 2015
The writers submitted a memorandum to the Akademi demanding that it pass a resolution pledging to take stern steps to safeguard the freedom of speech and right to dissent of the writers.
Vishwanath Prasad Tiwari, Akademi chairman, accepted the memorandum and said "it will be considered" in the meeting.
"The executive council of the Akademi should pass a resolution that it will take stern steps to safeguard the freedom of speech and right to dissent of the writers," the memorandum said.
"Writers are not allowed to write about what we see. Then what should we do?" writer Githa Hariharan, who was a part of the protest, told IBN.
The march comes ahead of an emergency meeting convened by the India's top literary body.
Over 40 writers have returned their Sahitya Akademi awards so far. The Akademi has come under fire over their silence on the recent incidents of violence, including the murders of writers and free-thinkers and incidents of violence over beef.
The protesting writers say that the Akademi, chaired by Prime Minister Narendra Modi, should stand for the freedom and rights of the people of India.
The writers have condemned the murders of rationalists Govind Pansare, Narendra Dabholkar and MM Kalburgi as well as the killing of Mohammad Akhlaq, the 52-year-old Muslim man who was killed in Dadri over rumours of beef consumption.
Arun Jaitley had last week denounced the decision of these writers to return their awards as a "manufactured paper rebellion" against the government.