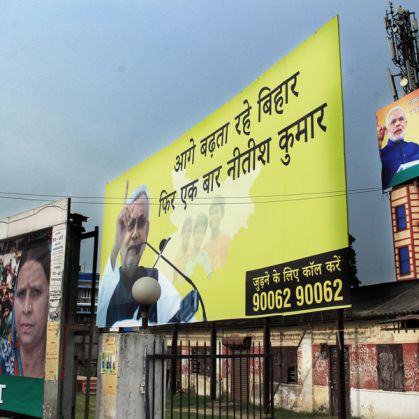 The celebrations have already begun. Congratulations are coming in from all corners. West Bengal Chief Minister Mamata Banerjee and Delhi Chief Minister Arvind Kejriwal, who had thrown their weight behind Mahagathbandhan, congratulated Nitish Kumar, who is heading towards another victory in Bihar.
Mamata Banerjee called the Mahagathbandhan's win as the "victory of tolerance, defeat of intolerance". She tweeted: Congratulations Nitishji, Laluji & your full team. And all my Bihar brothers & sisters. Victory of tolerance, defeat of intolerance.
Kejriwal too tweeted a congratulatory message saying: ""Many many congratulations for this historic win."
However, it was BJP's alliance partner in Bihar Shiv Sena, that had reserved the best compliment for Nitish Kumar. Shiv Sena's Sanjay Raut called Kumar the "maha nayak" of Bihar.
Raut told ANI: "We congratulate Nitish Kumar, this result will be turning point in country's political future." He further said that Narendra Modi should be held responsible for BJP's defeat in the state. He said: "When Congress loses then its Sonia ji's responsibility,similarly BJP must accept that #BiharResults is Modi ji's responsibility." He also called Kumar, "Maha Nayak" (super hero) of Bihar.
Meanwhile, one could already sense the pessimism in the voices of BJP spokesperson. Ram Madhav said that they would accept the mandate of the people, as did Mukhtar Abbas Naqvi.
Responding to its alliance partner's bitter assessment of its performance, BJP leader Shahnawaz Hussain said the Shiv Sena campaigned for Nitish Kumar in Bihar and helped him win.
According to the latest trends Mahagathabandhan is ahead on over 150 seats. A minimum of 122 seats are needed for either of the camps to form government in an Assembly of 243 members.