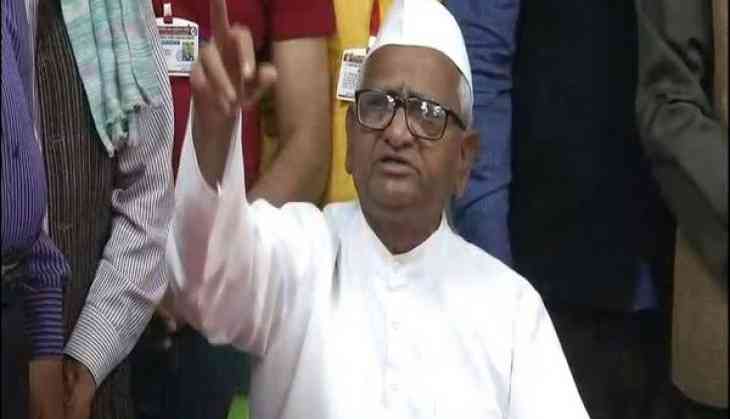 Social activist Anna Hazare
As the country is reeling under agrarian crisis, unemployment and corruption and loan defaulting by big businessmen, anti-corruption crusader Anna Hazare has decided to go on strike unto death.
Unlike 2011, this time 80-year-old social activist Hazare decided to take up other issues too, like agrarian crisis along with his old agenda Lokpal Bill. Will his 2018 movement catch attention quite the same way it got in 2011?
The impact of 2011 Anna movement was so powerful that his strike had shaken the government to the core. A sea of people pouring from different parts of the country had joined the movement. Moreover, high-profile crusaders who fought for social cause had become part of the movement.
At the heart of the movement, there was a series of corruption allegations against the then UPA government. These allegations of corruption prompted a large number of people to up the ante against then Manmohan Singh-led government. Hazare caught the mood of the nation and raised the issue with the support of various social activists such as Delhi chief minister Arvind Kejriwal, Kiran Bedi, Prashant Bhushan and other noted activists.
But the success and momentum of the movement will entirely depend on how capable his team is. One of the reasons for his movement becoming a mass movement he had a host of capable and accomplished activists. But this time it is yet to see that what kinds of activists are running the movement. Are they capable enough to catch the mood of the nation? Are they making smart and feasible plan to raise the issues that Hazare has taken up? Without any planned and committed efforts and feasible plan, the movement will not catch the attention of people considerably.
The second most important role is the participation of mainstream media in highlighting the issues and movement. The previous movement had got huge coverage from media. It was the coverage of mainstream media through which people across the country expressed their solidarity with his movement. If this movement is not given the space as it was given in 2011, then it will fail to make the impact on the minds of people. And the government will take it for granted.