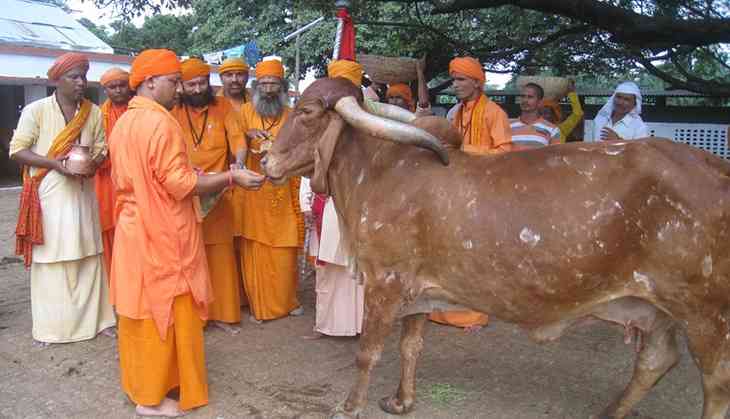 BJP leader and Mahant of Gorakhdham Peeth Yogi Adityanath feeding cows at the Gaushala at Gorakhpur Math in Gorakhpur. (Hindustan Times via Getty Images)
Those who show love and respect to animals are usually considered to be empathetic, compassionate and sensitive people.
But those aren't the terms that come to mind when one thinks of a Hindu hardliner, a man who has persecuted people for their religion and has spoken in very easy terms about 'taking' women.
Which is what makes Yogi Adityanath, the new Chief Minister of Uttar Pradesh, such a contradictory figure. And when it comes to the animals, his love for them isn't just restricted to cows - a gaushala at the Gorakhnath temple, where he is head priest, 'protects' 500 cows. It extends to dogs, cats, deer, monkeys and the like, many of which live in the Gorakhnath temple premises.
"Adityanath gets up at 3 am. After yoga and his daily prayers, he feeds the cows at his gaushala. Only then does he eat his breakfast," an associate of Aditynath said.
Unsurprisingly, social media can't have enough Adityanath's 'big heart' when it comes to his coterie of pets.
Recently, a photo of Adityanath feeding milk to a tiger cub went viral. His aides in the Gorakhnath temple said the cub was found roaming near an ashram in Tulsipur, in Balrampur district near the India-Nepal border, about 150 km from Gorakhpur. The cub was kept in the ashram for a few months and later handed over to the forest department for rehabilitation. Adityanath used to feed the cub with a milk bottle whenever he visited the ashram, they said.
An image such as this forms a sharp contrast with the man's chequered past: the 44-year-old 'sanyasi' has been charged in the past with rioting, attempt to murder, criminal intimidation, unlawful assembly, trespassing on burial places and endangering life or personal safety of others. Adityanth was also detained for 11 days in 2007 for inciting violence in Gorakhpur.
Over the years Yogi Adityanath established himself on the forefront of Hindutva politics. He has made many controversial statements ranging from 'wanting to turn India and UP into Hindu rashtras,' to 'wanting to install statues of Hindu gods in every mosque.' In November 2015, he compared actor Shah Rukh Khan to Pakistani terrorist Hafiz Saeed asking him to go to Pakistan. In 2014, he said, 'We want you (minorities) not to kill anybody and live peacefully and concentrate on progress. If the other side does not stay in peace, we will teach them how to stay in peace...in the language that they understand.'
In another undated video, he said: "If they take one Hindu girl, we'll take 100 Muslim girls."
For many on the internet, the picture with the tiger cub was enough to justify Yogi Adityanath's candidature for chief ministership of the most populous state of India.
Because only in India can hate speeches and murder threats be nullified with an adorable picture of a man with an animal.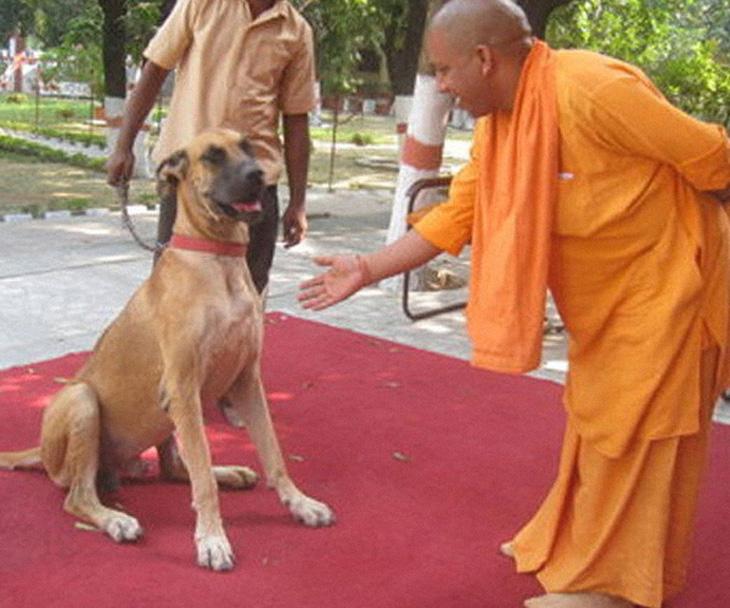 UP chief minister Aditya Nath with his dog Kallu (Hindustan Times via Getty Images)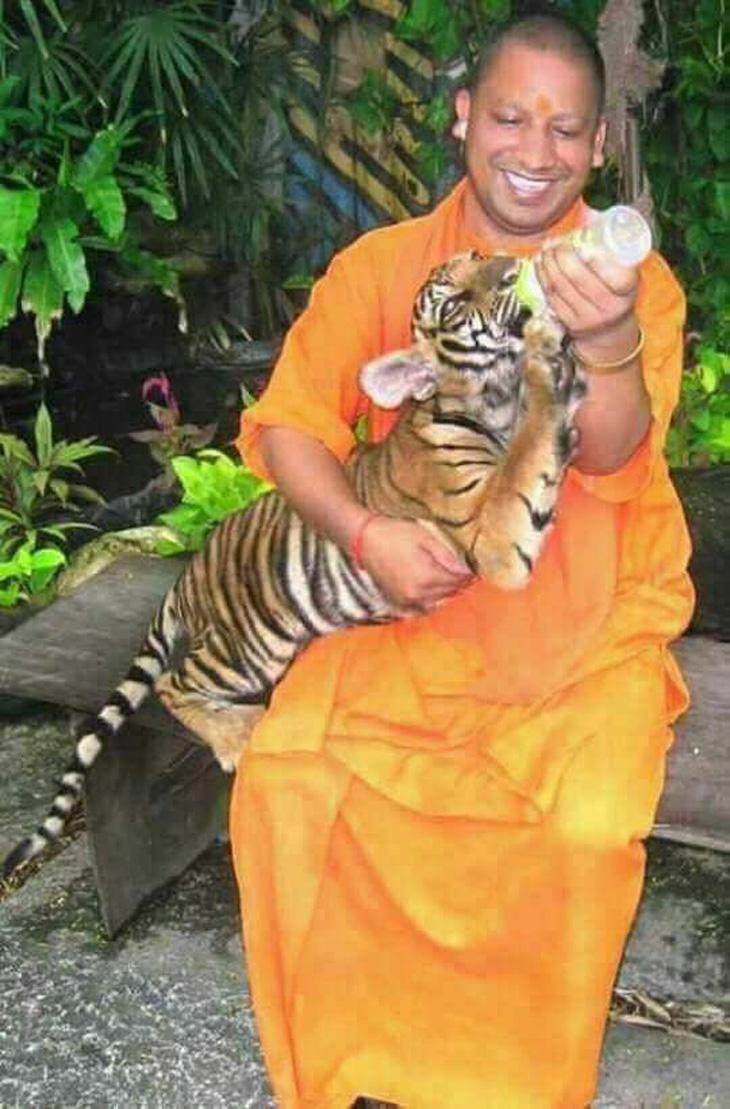 Yogi Adityanath feeds a tiger cub at the Gorakhnath temple (Social Media)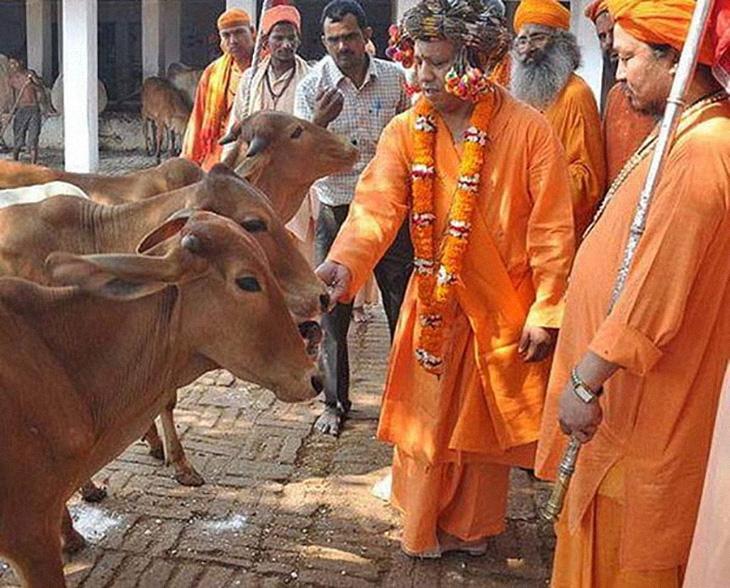 Yogi Adityanath feeding cows at the gaushala at the Gorakhnath temple (Social Media)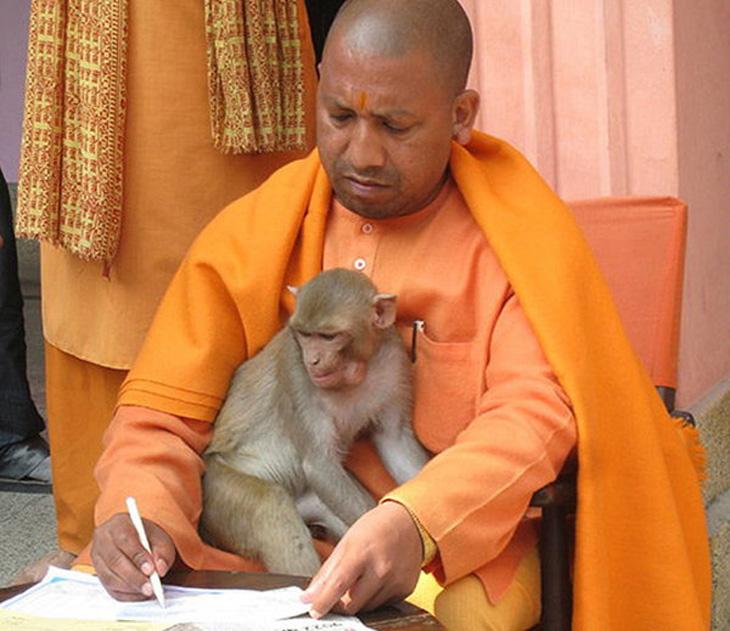 Social Media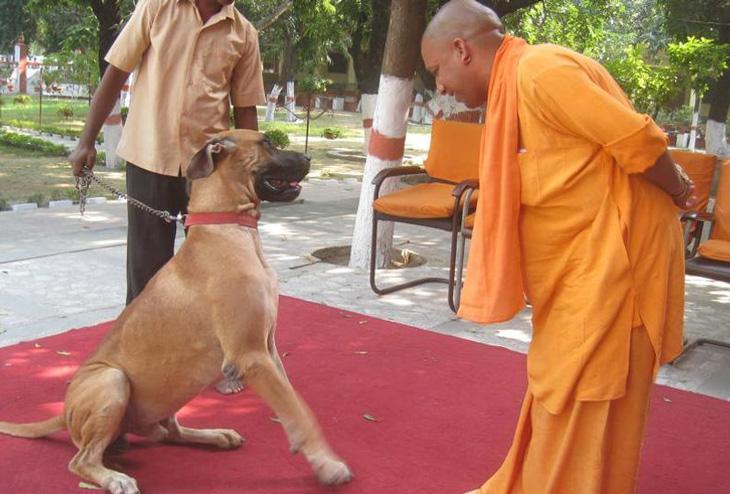 UP chief minister Aditya Nath with his dog Kallu (Social Media)